The Rise and continuing fall of Bihar under Nitish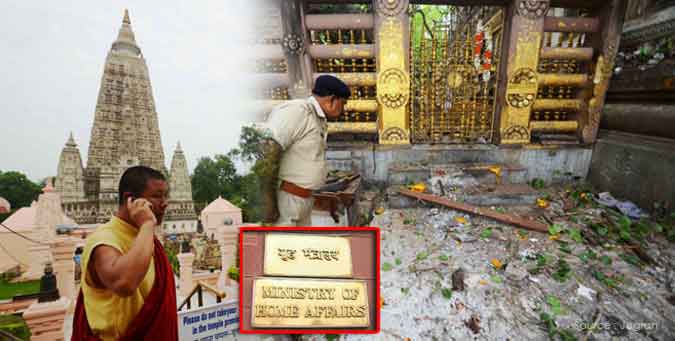 Bihar seems to have seen it all, from being the center of power, culture and learning through the Maurya and Gupta dynasties, to the usurped state it currently is in, under the JD(U) Government led by Nitish Kumar.
I myself am a Bihari, but I feel ashamed sometimes because of cheap tricks which the Government of Bihar has begun to undertake, in its baseless attempts of regaining its vote-bank and in the appeasement mechanisms, are a disgrace to every individual who takes pride in his motherland.
An attempt was made in drawing an age old connection to the Bihar ki Beti, as her name has been declared, nine years after her encounter in Gujarat. The promptness with which the JD(U) leaders dug out the Bihar link of Ishrat Jahan, who had been killed in a terrorist encounter by the Gujarat police reflects the speed at which actions are taken in Bihar, (well, though not in areas of development or improvement of conditions in the State) at least in the strengthening of the appeasement policy of Minorities, thus, aiming at more votes in the next elections. As for the connections, unfortunately, they don't seem remotely close, as Ishrat Jahan's grandfather Wali Mohammad belonged to Khagaul area near Patna and her father Mohammad Shamim had married Shamima Qausar of Jamalpur in Bihar, after which they moved to Maharashtra. The epic drama of arrest of Yasin bhatkal says it all wherein home minster, Bihar Nitish Kumar did not allow bihar police to arrest and investigate Bhatkal which could have been big scoop for any police force. Rather he handed him over to NIA just to safeguard his minority vote bank in Bihar.
Though Bihar has often been associated with underdevelopment and poverty, its connections to terrorism was reflected only for the first time in the Bodh Gaya attacks, during the rule of the Nitish Kumar Government. These connections to terrorism have now become so strong that terrorists are made to feel absolutely comfortable, as if Bihar or the JD(U) office, was their home. Tehseen Akhtar alias Monu, second-in-command of Indian Mujahideen, hails from Bihar and is part of the infamous Darbhanga module of the outfit. Akhtar was the mastermind of Bodh Gaya blasts in which about half a kilo of explosives were used in each bomb and table clocks were used as timers. It does not come as a surprise that one of the relatives of Akhtar, is a senior JDU leader. Akhtar's uncle Taki Akhtar is JDU leader from district Samastipur. Akhtar is wanted for several blasts including the 2011 Mumbai and 2013 Hyderabad blasts. The bigger surprise is that he is the same person who is responsible for the Gandhi Maidan blasts.
Does Gandhi Maidan strike a bell? If not, Hunkar Rally will. The limits of irresponsibility, personal jealous and power hungry corruption could be seen in the convenient ignorance of the warnings of the possible terror attacks during Narendra Modi's Hunkar rally in Bihar; a possibility which was converted to reality claiming six lives at Gandhi Maidan, where Narendra Modi was to give his speech. The rally was scheduled for the October 27, 2013 and the Intelligence Bureau had sent a specific alert to the Bihar Police on October 23, 2013 about a possible terror attack in Patna. Moreover, a general alert was sounded by the Intelligence Bureau on October 1, 2013 in a letter to various States, including the Director-General of Police of Bihar, with regard to the Indian Mujahideen planning to organise strikes in different cities. The only defence taken by the Hon'ble Chief Minister in this regard was the absence of any such prior information. This lack of words of the C.M was probably due to the reason that put in deep thought, about the question of whether Tehseen Akhtar should be named the Beta of Bihar or the Daamad of Bihar.
This aside, the common security practices undertaken during the visit of any Chief Minister was completely missing for the Hunkaar Rally. The rally ground was not sanitised, the anti-sabotage checking, mandatory for any public rally, was not done properly and Advance Security Liaison, was not carried out properly. These lapses reflect the insecurity and jealousy of the JD(U) in relation to the growing popularity of the P.M. candidate Narendra Modi on the one hand, while on the other hand, furthering the growing distaste for the JD(U). It has been very aptly put by one senior leader that "Nitish Kumar is more concerned about saving his government than governance and law and order in the state, development and good governance have become non-issues". After the bombs exploded in the rally, a massive stampede was caused killing and injuring many. The intensity of the bombs were low, only so that BJP would not be entitled to any sympathy votes, and Nitish Kumar's speech after the incident, reflected no compassion to the dead and the injured, but only criticised Modi's speech, that too on facts which are disputed in history.
Nitish Kumar was a ray of hope when he was brought to power in the year 2005. We often feel that change is good, it is a harbinger of new ideas and ideals, but is most unfortunate to see the change in Bihar. There is an undoubted change, a change from the Lalu Government to the Nitish Kumar Government, a change which did not substantially change anything at all. Well, let's not be too harsh, it did bring one change in particular, a change from a goonda government to a terrorist friendly government.
When I write all this, it pains me deep within to see what my State has come to be in hands of such deserving people. Having been brought up in Bihar, in the midst of continuous political instability and bloodshed, but at school, around late 90s, we were continuously taught that we Indians had a glorious past and every State in India had its own specialities either naturally or historically. I would not quote the names of palaces or buildings or the great warriors, but I would justify the truth in this statement just by the fact that the first residential international university of the world was established long back in 5th century A.D. in Bihar. It is in this town of Gopalganj, that I witnessed the heights of hooliganism at a tender age, when in broad daylight, in the heart of the town, a man was murdered. I also remember having closely watched the dead body being taken away, and the murder weapon left behind in a hurry by the shooter. Needless to say, this is what the children in Bihar are quite often subjected to, children who may be related to the dead people, or may just be bystanders like me, whose future is in some way coloured red because of these memories. The worst aspect of these incidents is that we see no justice, no story ever of any policemen being rewarded for catching hold of these hooligans, and somehow they are lost in hands of corrupt politicians, bureaucrats, and leaders, by way of bribes, thus are never reported, which indeed is an absolute failure of the fourth limb of the Constitution, the media.
The student movement led by Jai Prakash Narayan who was popularly known as Jai Prakash Babu, which was a sampurna kranti movement, was a truly revolutionising movement. His followers although surprisingly were people like Lalu Yadav and Nitish Kumar, but it could never be more unfortunate, that these followers could not even pick an iota of the qualities of the truly revered leader. The Irony is both Lalu and Nitish, products of people's movement which was against Corruption and its mirror image Congress, have turned out to be biggest symbols of corruption, minority appeasement and helping hands to Congress. The Ravanas who were there in Ram Vilas Paswan and Lalu Yadav's party have today taken the roles of Ram in the JD(U). Mythology in itself would never have predicted that Kalyug would be such that the main protagonists of the Ramayana would at this stage interchange their roles so drastically. It is surprising to see how advanced the 21st century is, such that in its endeavour of advancement it has even taken Kalyug by surprise.
Author : Rajiv Ranjan | Follow the writer twitter.com/hiraj13
Share Your View via Facebook
top trend
what next
IBTL Gallery