Sewa Bharati work in Earth quake effected Sikkim, Appeal for Support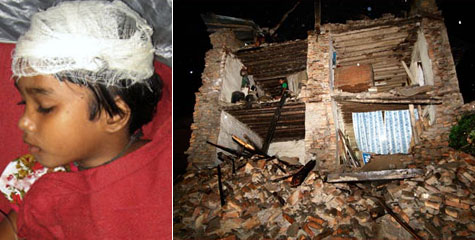 Nature has struck again, this time in Sikkim and the ground has shaken literally. Sikkim hit by an earthquake of 6.8 in magnitude killing 82 precious lives. Out of the 82 deaths, 68 are in India, including 53 in Sikkim. Theree peopel are confirmed dead in Bihar and 12 in West Bengal, seven each are dead in Nepal and Tibet respectively.
More than 100 people arrived at Siliguri district hospital and 30 were admitted. "The tremors were felt in Delhi, West Bengal, Bihar, Orissa, North East and Nepal. Around 200 people have been brought to the ITBP relief camp in Gangtok, Ranjit Sinha, DG ITBP, said. Coupled by the incessant rains that hit the highways and landslides that deteriorated the situation sikkim needs all the help NOW.
Three teams comprising 25 members (Sewa Bharati karyakartas) in total already reached SIKKIM at Chungthang, and Mangan for relief work. 1 more rescue team with relief-van comprising 150 pcs Blankets, 600 ltrs of drinking water, 3 quintal grains & Pulses, 5 tins Edible Oils, 25 cartoons of Biscuits for children, and many more goods is ready to dispatch form our head office at Siliguri.
Sewa-Sansthan:
Uttar Banga Sewa Bharati, 39 Balaidas Chatterjee Road,
Hakimpara, Siliguri-734001 (West Bengal)
Our Bank Account details for your financial support :
Vijaya Bank, Sevoke road, Siliguri-734001 (WB)
IFSC code : VIJB0007207
Area Code: 0297207
Account No. 720701010104657
Share Your View via Facebook
top trend
what next
IBTL Gallery