Gujarat bagged Prime Minister's award for excellence in Public Administration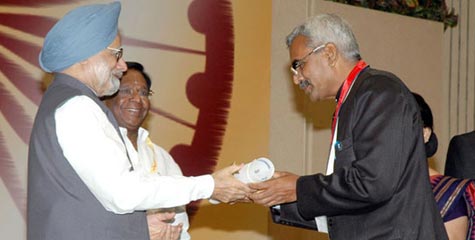 Gujarat State Watershed Management Agency (GSWMA) has been conferred Prime Minister's Award for Excellence in Public Administration for the year 2010-11 for the initiative entitled "Participatory Watershed Management Programme". The award was received today by Shri Ram Kumar, Chief Executive Officer of GSWMA from Prime Minister Dr. Manmohan Singh on the occasion of Civil Service Day held in New Delhi.

GSWMA is the nodal agency to implement Integrated Watershed Management Programme (IWMP) across Gujarat state. The main aims of the IWMP are to restore the ecological balance by harnessing, conserving and developing degraded natural resources such as soil, vegetative cover and water. The outcomes proposed are prevention of soil run-off, regeneration of natural vegetation, rain water harvesting and recharging of the ground water table. This is expected to enable multi-cropping and the introduction of diverse agro-based activities, which help to provide sustainable livelihoods to the people residing in the watershed area.

Shri Ram Kumar, Chief Executive Officer of GSWMA after receiving the award on behalf of Gujarat Government said that right from the planning phase of the project, scientific tools have been used to ensure accuracy and efficiency. The approach followed for planning involves: i) creation, development and management of geo-spatial data base depicting present conditions of land, water and vegetation with respect to watershed under different ownerships at village level, ii) compatible socio-economic aspects and their analysis, iii) historical perspective land-water treatment of the area. The tool developed by the Gujarat State Watershed Management Agency has been widely appreciated at National level in multiple fora.

He further said that total 21.34 Lac Ha. Area with an outlay of 2769.72 crores has been covered under IWMP for the implementation that includes 3 batches sanctioned in the year 2009-10, 2010-11 and 2011-12 respectively. For monitoring purpose too, GIS has is being utilized.

Processes have been Standardized and accordingly Technical Manual, Capacity Building Manual, Human Resource Manual, Livelihood Manual & Operational Guidelines have been framed and operationalized. It has been made mandatory to converge with other schemes and programmes to bridge the fund gap and remove the duplication of works. Convergence worth 283.02 crores have been taken up for the projects sanctioned in year 2009-10.

Shri Ram Kumar added that for the first time in watershed programme, livelihood activities have been included to extend benefits to landless and asset-less people of the project area. Livelihood action plan has been prepared and being implemented across state. Batch-wise budgetary allocation for livelihood is 215 crores, 180 crores and 185 crores for the projects sanctioned in the year 2009-10, 2010-11 and 2011-12 respectively.

In a case that reflects the essence of IWMP, one of the remotest villages of Gujarat named Eval of Patan district has reported wonderful results in mere one year's time. A parched village where farmers could only dream of a lowly pearl millet, now a farmer is cultivating castor in an area of 2.4 ha and 10 farmers are cultivating cumin in the remaining 15.6 ha. The average productivity of cumin varies from 6 to 8 quintal/ha and castor is 25-30 quintal/ha.

Shri S.K. Nanda, Principal Secretary (Forest and Environment), Shri Arvind Agarwal, Principal Secretary (ARTD,GAD), Shri Rajeeva, Addl. Principal Chief Conservator of Forest, Shri Bharat Lal, Resident Commissioner and other senior officers from State Government participated the function.
Share Your View via Facebook
top trend
what next
IBTL Gallery