The Facts the media published then, before unleashing anti-Modi propaganda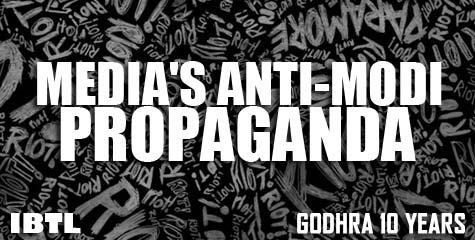 Here in this 4th episode of the series, we present some excerpts from media reports published then, which highlight the facts, which were later buried in the anti-Modi noise created, catalysed and corroborated by the same media.

The Hindu - 4th March 2002 "AHMEDABAD, MARCH 3. The orgy of violence in Gujarat appears to have ended. Today only two deaths were reported, one from Godhra. Officially the death roll is 431, more than half of them in Ahmedabad. Curfew has been lifted in most areas of the 40 towns and cities where clashes were reported, including Naroda and Meghnaninagar (i.e. Gulmarg Society case) in Ahmedabad, where hundreds were killed. The state administration says that curfew will be relaxed in more areas tomorrow. There was a `sense of normality in the State' today."
The Hindu 7th March 2002
AHMEDABAD MARCH 6. No untoward incident has been reported from any part of Gujarat for the second consecutive day today. The Home Secretary, K. Nityanandam, said the curfew had been relaxed in most areas.
Mr. Modi visited relief camps housing the minorities and instructed the officials concerned to ensure supply of essential commodities. Doctors visited the camps to treat the injured for the first time today since the beginning of the violence. Some 30,000 people are being sheltered in 18 relief camps…"
India Today, 22 April 2002
"…Take Sanjeli. ... Police intervention meant another 2,500 were spared a savage death … In an identical display of insanity, around 7,000 armed tribals marched into Bodeli town in Chotte-Udepur tribal area of Vadodara district ... While hundreds were saved by the police, Vadodara District Collector Bhagyesh Jha and other senior officers were fired upon by tribals as they tried to rescue the trapped Muslims."
On the basis of such and similar records available, we can conclusively say that the Gujarat Police saved at least 17,500 Muslims in Gujarat. If there were no police or Army presence, 10,000 Muslims of may have been killed. We have already looked in previous episodes at the figure of 98 people being shot dead in the first 3 days. Never before were so many people shot dead in police firing for rioting in so few days in the entire history of communal riots in India. All this nails the lie that Police was sleeping or deliberately not curbing riots.
Also, Riots did not affect the entire state, only parts of it. That the whole of Gujarat was burning is a figment of imagination of the biased and prejudiced English media. 2002, riots were limited only to Ahmedabad, Vadodara, and a few places in Panchmahal district near Godhra. In the entire state of Gujarat, there are 18,600 villages, 240 municipal towns and 25 district headquarters. In the entire state, riots occurred in no more than 70 places. If you include the two big cities of Ahmedabad and Vadodara, by the maximum stretch of imagination, it can be said that 2% of the state was affected by riots, or was in flames.
Around 6 December 2002, Narendra Modi was invited on Star News- NDTV's programme 'Hotline'. In that programme, the anchor Pankaj Pachouri asked Narendra Modi this question. He said, "Your party always gains because of the riots. But no riots took place in Saurashtra and Kutch, so you are all set to lose there. How will you respond to this?" To that question, Narendra Modi replied, "When 2 % of Gujarat was burning, you were saying that the whole of Gujarat is burning. Now you are saying that no riots took place in Saurashtra and Kutch. So first you apologize for lying that the entire state was burning when only 2 % of the state was burning."
Below are some excerpts from Interviews given by Modi, where he states certain facts.
Hindustan Times, 10 March 2002 "The situation was brought under control in 72 hours. There is no truth also in the charge that we delayed calling in the Army. The Godhra incident took place at 8 am. At 9.45 am, I imposed curfew there. .. If our purpose was to target a community, we had an opportunity at Godhra. But we didn't do that. The challenge before us was the safety of the surviving passengers. To keep the violence from spreading, I gave shoot-at-sight orders before leaving Godhra. On February 27 night, nearly 800 people (Its 827) were rounded up all over Gujarat. The February 28 (VHP) bandh was spontaneous. There weren't any reports of people being forced to join it. Tensions started rising at 11 am and at 12.20 am curfew was imposed in Ahmedabad."
Outlook
Que: Were you playing the fiddle while Gujarat burned?
Ans: No. Contrary to what is now being projected, I brought sanity within 72 hours of the violent outbreak. It would take months before communal rioting during the previous Congress governments could be brought under control and a semblance of normalcy could be restored. This is for the first time that a communal riot has been controlled in record time."
While replying to another question, Modi reveals, and asks, "Of the 80-odd arrests so far, 65 have Congress backgrounds. The Congress is misusing the sentiments. They are alleging that the independent corporators involved in Godhra were backed by the BJP. Until now, the media has been saying that there are no Muslims with the BJP. But when it comes to this incident, my party is supposed to have backed Muslim corporators. There is a limit to double standards. In any case, corporators are not members of any party."
Shri B. P. Singhal, former Rajya Sabha MP, and former Director General of Police wrote in weekly
'Organiser' dated 9 October 2005
: "…The police had fired over 10,500 rounds …In addition, in all, 15,000 tear gas shells had also been burst during the Gujarat riots…The 1984 riots escaped the media glare because TV was barely in its infancy. On the other hand, a lot of mischief was played by the electronic media, which went on repeating some of the gory incidents of riots day after day. One channel repeated a particularly gory seen as many as 21 times. An image was thus created by the collaborating media that the massacre of Muslims was continuing unabated in Gujarat, day after day. The truth is that the total number of riot-related accused that came to light in entire Gujarat was 25,486 (17,489 Hindus and 7,997 Muslims). The efficiency of the Police can be gauged from the fact that out of the above mentioned number, as many as 25,204 accused were arrested- out of which 17,348 were Hindus and 7,856 were Muslims. The police in Gujarat was therefore not sleeping at any time.
In the coming episodes, we'll be sharing more dimensions and aspects related to the entire issue.
Continued at The Facts the media didn't remind you!
Share Your View via Facebook
top trend
what next
IBTL Gallery