Dr Hedgewar Seva Samiti overcomes malnutrition problem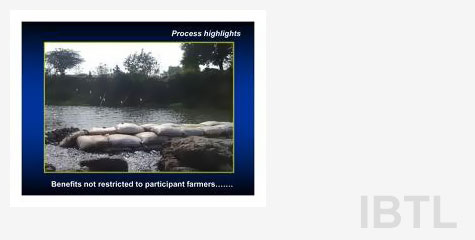 Dr Hedgewar Seva Samiti gave a serious consideration to the problem of malnutrition and decided to uproot the problem completely from the tribal belt. The samiti found that strengthening the livelihood is the only solution to the problem and initiated efforts in this direction. Their efforts started yielding fruits as the health of the people began to improve.

Deforestation, declining of the fertility of land, unprofitable farming, increase in poverty and malnutrition are some of the issues of grave concern in tribal belts of the country. In order to eradicate malnutrition, government and non-governmental organizations mainly distributes food stuffs among tribals, but in spite of this, the problem of malnutrition still persists in tribal belts.

Dr Hedgewar Seva Samiti in Maharashtra's Nandurbar district gave a serious consideration to this problem and decided that the problem can be completely eradicated, if livelihood is strengthened. In order to protect the farm, soil should be protected, water should be conserved, methods of farming need to be improved, small scale industries that run on the forest produce should be improved and selling price should be increased.

Dr Hedgewar Seva Samiti karyakartas sent their proposal to Small Grant Programme run by UNDP. The proposal was accepted and the karyakartas initiated this livelihood project. Scientists working for samiti's Agricultural Research Centre also gave a helping hand for the project. The project began in five remote villages of Satpuda mountain range. RSS had an excellent communication with all the villages.

Kisan Mandali (group of farmers) was constituted in each village. Through these mandalis, the project began to run. In the first phase, the cropping pattern of rain-based farming was innovated. 20 to 25 farmers from each village participated in this innovation. Training was given to produce two crops at a time in a single field. At some places, traditional methods were adopted and at some places, new breed of arhar and soybean were used. Soybean was sowed for the first time and the production of new breeds arhar and soybean was also increased.

In each farm, pits of 6x1 feet dimension were dug in the lower portion, so that the soil should not be swept away. After rainy season, it was observed that over 1 tonne soil was accumulated in all these pits! The other farmers also decided to dig such pits before next rainy season. For digging work, gram panchayat arranged the labourers through National Employment Guarantee Scheme (NEGS).

Technicians of Krishi Vigyan Kendra prepared a layout for vegetable garden in every house. The type and amount of vegetables to be grown in 10x10 sq m area was also decided. The scientists paid a special attention towards the nutrients to be obtained by growing such vegetables. The purpose was that even if the experiment yields just 50% result, then also no child will remain under nourished. All 25 families in the village purchased seeds and the vegetable garden started growing. Experts used to visit the garden from time to time and give training for maintaining the garden. A mini-watering kit was prepared for ensuring round-the-year water availability.

Right from the year one, the yield was good and by eating these vegetables, the health of the villagers started improving. Active co-operation is being received from the villagers. Thus Hedgewar Seva Samiti through its dedicated efforts has proved that the problem of malnutrition can be completely eradicated.

Contact:

Dr Hedgewar Sewa Samiti
Krishi Vigyan Kendra
Post Kolda
District and tehsil Nandurbar
Pin: 425412
(Maharashtra, India)
Phone no: 02564-240554, 261550
E-mail: [email protected]

How to reach:

By air: The nearest airport from Nandurbar is Aurangabad Airport at a distance of 223 km.
By rail: Nandurbar is an important railway station on Central Railway line. Almost all trains halt here.
By road: Nandurbar district is located in Maharashtra. From here, Kolda is at a distance of 48 km.
... ...
Share Your View via Facebook
top trend
what next
IBTL Gallery