Indian government's ultra-low cost tablet Aakash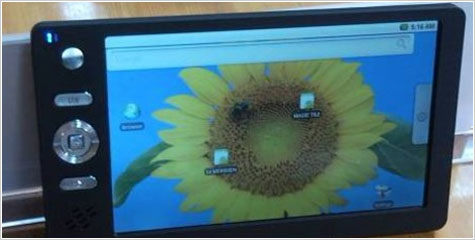 "Aakash", the much-awaited ultra low-cost tablet produced by the Indian government, is slated to be unveiled today. The tablets will be sold to students at the subsidised price of INR 1700. However, the tablet will be available retail stores at a maximum retail price of INR 2,999. The government will initially roll out 100,000 units of the Akash tablet in a pilot run.
The tablet is considered revolutionary as it aims to cater to rural India and connect it with the ongoing technology boom in the country. However, the launch of the Aakash was delayed due to various reasons, including change of the manufacturer.
There will be two versions of the Aakash tablet, one available at the retail stores will come with an inbuilt cellular modem and SIM to access Internet. These two features will not be available in the subsidised tablet.
Both versions will run on Google's Android OS, and will offer Wi-Fi and USB connectivity, 256MB of RAM, 2GB inbuilt storage, and storage expandable up to 32GB via microSD.
Share Your View via Facebook
top trend
what next
IBTL Gallery