Chinese court frees 13 jailed Gujarati traders - Modi Effect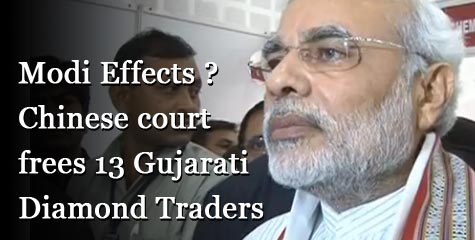 Gujarat Chief Minister Narendra Modi's diplomatic efforts and statesmanship shown during his China visit has resulted in a great relief to 22 Indian diamond traders, mostly from Surat and Mumbai, arrested in China since January, 2010 without any hope, allegedlyfor smuggling diamonds. The efforts made so far for their release, had not yielded any results. However, after Chief Minister Shri Narendra Modi took up the matter with Chinese authorities, the case was expedited and judgment delivered today.
During his last month visit to China, Shri Narendra Modi raised the issue with top Chinese leadership and apprised them of the plight of the 22 Indians mostly from Gujarat, languishing in Chinese jail. He brought the concern of their families to the notice of Chinese leadership. The Chinese leadership has attached great importance to the visit of Shri Narendra Modi and was keen to make the visit a grand success. During the high level meetings, it is understood that top Chinese leadership promised the Chief Minister to take up the matter on priority in view of the request made by the Chief Minister and its friendly ties with India and particularly with Gujarat State. The Chinese authorities assured the Gujarat Chief Minister that the pending trial of the case will be expedited and judgment will be delivered soon. These 22 Indians have been in Chinese jail for almost two years.
Keeping in view the importance of the visit, Indian officials had also requested the Chief Minister to take up the matter with the top Chinese leadership. After Chief Minister, Narendra Modi's intervention, the case has been taken by the Chinese authority on priority. As a first step, immediately after the visit, Chinese authorities allowed the Indian Ambassador to China Dr. S. Jaishankar and Counsel General, Guangzhou Mr. Indramani Pandey to meet these 22 detainees in jail.
*****
Share Your View via Facebook
top trend
what next
IBTL Gallery