Party with a difference - BJP through Kushwaha's prism, in contrast with Congress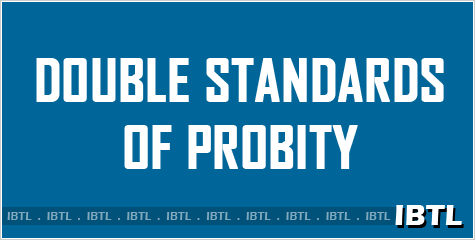 2012 started on a rather chaotic note for the BJP, the 'proud' proclaimer of its being 'the party with a difference'. The party, just before UP Elections, among others, inducted, Babu Singh Kushwaha, a former Minister in Mayawati government who has severe charges against him, including those of NRHM scams, exposed by BJP's 'Scams Expose Committee'. After almost 4 days of chaos and embarrassment over the issue, Kushwaha's membership stands suspended. Readers will recall how BJP had in 2004 inducted D P Yadav, a mafia don, but following the intervention of Atal Bihari Vajpayee, had expelled him, days after.
- - - - - - - - - - - - - - - - - - - - - - - - - - - - - - - - - - - - - - - - - - - - - - - - - - - - - - - -
हिंदी में पढ़ें : कुशवाहा कांड के आईने में भाजपा और कांग्रेस : मापदंडों के मायने
- - - - - - - - - - - - - - - - - - - - - - - - - - - - - - - - - - - - - - - - - - - - - - - - - - - - - - - -
Following BJP's 'self-goal', numerous articles were written, debates were organised and it the deflectors of BJP, from politics, media and general public claimed with big smiles how BJP's 'true face stands exposed'. Rashid Alvi, a senior Congress leader (who was earlier with Mayawati's BSP, and even before that with Mulayam Singh's SP) even went on saying that Advani's Jan Chetana Yatra was to pick such corrupt and criminal people for the BJP, a comment, of the genre best mastered by Congress General Secretary Digvijay Singh. BJP, or for that matter, any political party inducting a criminal was a bad news for India, but the delight of this chunk of people only betrayed how much they cared for their country and the values of democracy.

Now, let's come to a comparative analysis. In Karnataka, the name of a BJP CM was indicted in Lokayukt Report. Despite attempts by him to save himself, BJP ensured his resignation. On the contrary, Delhi CM Sheila Dikshit continues enjoying her CMShip despite a Lokayukt Report indicting her. BJP's MP CM Uma Bharti had resigned from her post despite having won the state with 3/4th majority, but Congress is protecting Home Minister P Chidambaram even when documentary evidence has been made available to the Supreme Court against him for his involvement in 2G scam. A BJP president Bangaroo Lakshman was caught on camera taking bribe. BJP ensured his political career ended. In contrast, Congress felicitated its former Prime Minister Late Rajiv Gandhi with Bharat Ratna even when his alleged involvement in Bofors scam was under probe. It's a separate issue that CBI managed to spend 250 Crores while probing a 64 Crore scam and still let Ottawio Quattrocchi perceived to be Sonia Gandhi's acquaintance, scot free.

In fact, it was Jawahar Lal Nehru who had re-appointed Krishna Menon, the accused of the first scam of Independent India (the Jeep scam), as a minister in his government. The tradition of protecting the corrupt is age-old in Congress. And, even discussing Sharad Pawar's NCP, Mayawati's BSP and Mulayam Singh's SP for corruption, is an exercise in futility. Mayawati's act of sacking 20 ministers for being corrupt/criminal conduct is just an acknowledgment that for 4.5 years, she shared the loot made by these ministers and now, when it was essential to have a clean image just before elections, she got rid of them.

It's true that many political leaders having corrupt and criminal conduct and image do have their own fixed vote bank. That is the reason why political parties woo them. But even this is true that these people find refuge in parties like Congress, BSP and SP. The people know it and that is why they don't expect political probity from these parties, and incidents of criminals and corrupts joining these parties do not get popular attention. But when such people attempt to join BJP, there is so much of public fury. One BJP leader got Kushwaha inducted into the party keeping in view his vote bank. Nitin Gadkari approved the move making his calculations. But this led to such discomfort and resentment within the party that the BJP ultimately had to suspend him. Advani, Jaitley, Sushma, Uma, all were perturbed. It was like a mutiny against Gadkari's decision. Uma Bharti openly refused to continue with election campaigning. Yogi Adityanath threatened to leave the party if Kushwaha wasn't suspended. Meanwhile, Naqwi and Yashwant Sinha tried to downplay the issue in an attempt to not let party discomfort becoming public, but ultimately the honest and truthful powers within the BJP prevailed and Gadkari had to suspend Kushwaha.

As there was discomfort within the BJP, so it was there outside. Common people were disappointed, sad and even aghast because BJP is one party they look forward to when it comes for political probity. And ultimately, BJP let go of inferior political gains and paid respect to the public sentiment. Undoubtedly, they deserve applaud and a following for this. Even people are expected to rise above the mindset of "so what if he's corrupt, he's from my caste" and vote towards strengthening the Indian democracy and the values contained in it. Only then India will rise as an example of Democratic values in the world.
Share Your View via Facebook
top trend
what next
IBTL Gallery