Bagga writes to Katju, protesting against Indian Express' suggested 'coup'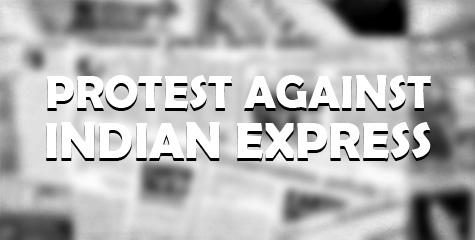 Indian Express, the news paper which despite its tagline of "Journalism of Courage" has visibly become an aid of Government has come under severe fire from all sections for carrying a front page story defaming the Army. Not just the Army but even the government has rubbished the story which was purely speculative in nature. On 4th April, Indian Express had published how 2 units of Army had moved towards Delhi without notifying the government, and thus suggesting that Army was planning to destabilize the democracy. Soon after, The Sunday Guardian reported that the story was planted into Indian Express by a senior minister in the government. This once again highlighted the "paid media" tag which is too conspicuous to be false.

Against this Bhagat Singh Kranti Sena President Tajinder Pal Singh Bagga has written a letter to the Press Council of India Chairman Justice Markandeya Katju. Here's the full text of the letter.


Respected Sir,

This letter is to draw your attention to a recent turn of unfortunate events that have unfolded in our so called mainstream media.

You must be aware of the recent debacle by a Indian Express over the 'Coup' rumors that it carried in its front page on its daily. The piece titled "The January night Raisina Hill was spooked …" dated 4th of April, 2012 was the biggest piece of farce we have ever come across, far beating any standards of sensationalism and misinformation. This event raises a serious concern over the possible misuse of the right to free speech in our democracy and possibility of security infringements upon some of the matters of prime national importance. Not only was it a reckless misadventure at the cost of established civilian-military trust but it also attempted to paint a shadow of doubt over an otherwise impeccable record of our Armed forces and the integrity of COAS, General V.K.Singh.

The report also mentions that the military ignored the protocols by not informing the govt. about their exercise and also, that the move was attempted on the same day as COAS was in court over his age issue. This wonderful connection is nothing but an outrageous blame on the military and COAS of having attempted a coup. We call it sensationalism because the same news was reported in an academic sense in a rediff.com article dated march 13th. What was supposed to be general news was twisted into a form of journalism that could provide shock value to the readers. As far as the newspaper is concerned, it was clearly a cheap gimmick aimed at gaining some publicity which is always good for business!

We did notice a jump in their following over social media and it'd be thus safe to assume that their circulation must've increased as well.

But all of this has come at the cost of the morale of our armed forces. Our army isconsidered amongst the best in the world for its discipline and moral integrity. Time and again it has proved its regards for country's democracy. Not only the article raises fingers on our military, it ends up doing that in a manner of gross irresponsibility. Lt Gen (retd.) Shankar Prasad has recently expressed his deep disappointment over the ruckus created by this article and it only reflects the sentiments of many others in our armed forces. The report at best is a work of imagination, and that in a perverse taste.

As a result of this article, rumors are afloat about nexus of arms lobbyists, politicians and bureaucrats and that it's this nexus which is behind this attempt to malign the image of our army and COAS, Gen. V.K.Singh. We must not believe in rumors and hence request a thorough high level investigation of this issue. The nation must know the source of such information and the authenticity of claims made.

In all probability, given the reckless manner this article was reported without any investigation, we demand a ban on this newspaper for misleading the people of this country on an extremely sensitive matter. Any lenience from law in this regard will only encourage more such misadventures from the media in future and hence a strong example needs to be set here for everyone to see.

Kindly look into the matter and help the rule of law prevail, in letter and in spirit.

Jai Hind
Tajinder Pal Singh Bagga (President)
Bhagat Singh Kranti Sena
9212640865
Share Your View via Facebook
top trend
what next
IBTL Gallery