11th National Training Camp of RSS' Muslim Rashtriya Manch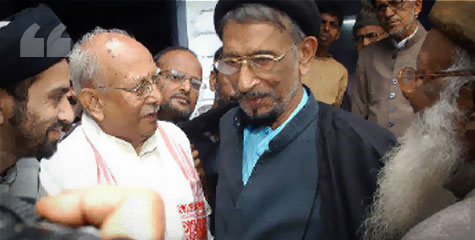 Puskar, Rajasthan June 27: "Muslims in India have not come from outside but belong to this country and is an inseparable part of the national life of this country like their Hindus", observed K S Sudarshan, former Sarsanghchalak of Rashtriya Swayamsevak Sangh (RSS) here on Tuesday.

Sudarshan was delivering inaugural speech at the inauguration of the 11th National Training Camp of Muslim Rashtriya Manch (MRM) at Hotel New Park here at the historical township of Pushkar. MRM National Convener Mohd,. Afzal, co-convener and incharge of the camp Abbas Ali Bohra, Chhattisgarh Waqf Board Chairman Salim Ashrafi and former national convener of MRM Salavat Khan were prominently present on the dais.

Sudarshan said that all those living in India were Hindus. He narrated an incident from the life of Shahi Imam of Jama Masjid of Delhi while he was on haj pilgrimage to Mecca. There he was asked to state his identity which came out to be Hindu as he was from Hindustan. Hence, Sudarshan said "we are all Hindus and this is our country Hindustan".
Delving into the historical beginning of Muslim Rashtriya Manch a decade ago the former RSS Chief said that he had asked former President of All India Imam Council Maulana Jameel Iliyasi as to why the Muslims considered themselves as 'minority' when they belonged to this society and country as much as the Hindus?

The former RSS Chief who was most respectfully referred to as 'Param Sarsanghchalak' by Imran Chaudhary and Mohd Afzal, explained in detail how the British rulers wedged a divide between the Hindus and Muslims after 1857 war which both had fought together and how the Congress in independent India reduced the Muslims to a mere vote bank. He also narrated the role of the then RSS Chief M S Golwalkar in persuading Maharaja Hari Singh of Kashmir to merge his state in India.

He appealed the Muslims to understand this game of the Congress party and save themselves from being reduced to mere vote bank in the future.




MRM National Convener Mohd Afzal in his speech traced the beginning of MRM and said that the MRM endeavored to impress upon the people that Islam is really the religion of peace and that there was no place for violence and terrorism in the name of Islam.

Referring to the fatwa issued by the Darul-uloom Deoband against terrorism in the name of religion, he said that it was the efforts and campaign by the MRM that prompted Deoband to issue such a fatwa denouncing terrorism and wanton killings in the name of jihad and religion.

He said that the MRM activists have unfurled the national tricolor at Srinagar in Kashmir and sang Vande Mataram there braving all adverse situations. Not only this, the MRM participated in the MRM delegates participated in the Amarnath Shrine Board agitation and submitted a memorandum containing signatures of 10 lakh Muslims from the country to the President demanding ban on cow slaughter.

He said that the MRM believed in the concept of Hindutva which according to him was all encompassing and included the gurudwaras, churches and baba garib nawaz meaning the Sikhs, Christians and Muslims are covered by the term Hindu.

Referring to the current debate on RSS Chief Mohan Bhagwat's statement on who should become the next prime minister of the country, Afzal said amidst thunderous applause that the MRM felt that the next prime minister should be a 'swayamsevak' of RSS.

He said that the MRM would set up a blood bank shortly and to mark the beginning of this project a blood donation camp would be conducted on June 27 at the camp venue. He said that Abbas Ali Bohra, national co-convener of the MRM has declared to finance the project.

Earlier, Dr Munnavar Chaudhary, Convener of Rajasthan made the introductory remarks while Abubaker Naqavi, co-convener conducted the program.

The three-day event will discuss issues in Jammu and Kashmir in the light of the report of the interlocutors appointed by the union government on Kashmir problem, and other organizational matters. Mentor of MRM Indresh Kumar will also be interacting with the participating delegates.
The three-day event is being attended by over 200 activists from 25 states.

Muslim Rashtriya Manch is a pro-Muslim organisation which follows the Ideology of Rashtriya Swayamsevak Sangh, RSS.

Source: Samvada
Share Your View via Facebook
top trend
what next
IBTL Gallery