Behind the scenes at F1: A preview of the biggest party in town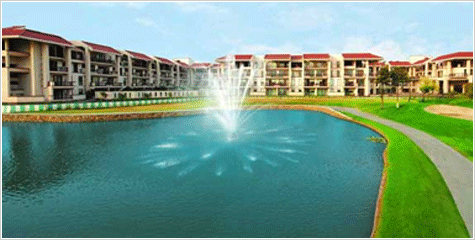 F1 is one sport that every fan terms as crazy when he hears the roar of the engine. Indian fans are set to get a taste of circuit magic and euphoria at home when the gods of the track come to the Buddh International Circuit in Greater Noida, between 28th October and 30th October. The 12 teams which will participate in the Formula 1 Airtel Grand Prix include Red Bull Racing, McLaren, Ferrari, Mercedes, Renault, Force India, Sauber, Toro Rosso, Williams, Team Lotus, HRT, and Virgin. As the third most-watched live sporting event in the world after the Olympics and the World Cup, Formula 1 has traditionally been known to bring in much needed revenues to countries that have played host.
All the off-track action will take place in Jaypee Greens Golf & Spa Resort spread across 65 acres. It's like a mini sanctuary for the drivers and the F1 after-parties. 24 drivers will stay in luxury suites overlooking the golf course. Special F1 menus have been created for the multi-cuisine restaurant Eggspectation, the Indian restaurant Paatra, and Italian restaurant, La Brezza. The racers can take their pick from a range of dishes. For the after-parties, a joint enterprise between Arjun Rampal and AD Singh, has tied up with Jaypee Sports International to create a pop-up lounge within the Resort. The after-parties will include performances by Lady Gaga, DJ Roger Sanchez, Edward Maya and Tom Novy.
But it's all too costly. Box Tables that can seat 8 people are priced over 8 lakhs and are already fully booked. The Grand Stand Tables are priced over 6 lakhs. The other Grand Stand Tables part deux can seat 4 people for 2 lakhs and above. The Walk-ins are priced at Rs 30,000 for 28th October and 29th October, and Rs 40,000 for 30th October. Everyone who wants to play will have to pay. While the glitterati blows away cash, the real enthusiasts will likely sit on the sidelines of the races hoping to catch a closer glimpse.
Share Your View via Facebook
top trend
what next
IBTL Gallery