Stanford Business School students discuss the factors behind Gujarat's development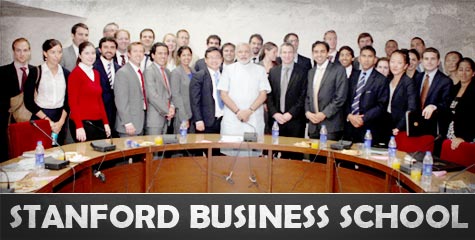 A group of 35 students from America's Stanford Business School held a meet with Chief Minister Narendra Modi today and discussed various aspects of Gujarat's development model. The students are in Gujarat as a part of a study tour.

The students asked Mr. Modi questions about the achievements of Gujarat, good governance and about the need of an efficient leader with a strong decision power for building of a sound economy.

Chief Minister said the factors such as political stability, pro-people decision making, strong political will, people's participation in development, transparent and progressive policies and the proactive approach of the State government are behind the success of Gujarat.

Investors from within and outside of India are coming to Gujarat as they have developed a trust for the State government's progressive policies, stability and immense possibilities of development of Gujarat, Chief Minister said.

Mr. Modi gave outline of how the State, which was engulfed in various problems a decade back, has emerged as a model for development in entire nation. The industrial, infrastructural and economical growth of Gujarat has directly benefited the farmers and rural economy. And so, Chief Minister said, the process of land acquisition for industries does not create disputes, rather the industrial development has encouraged the farmers to give their contribution in the development.

The students became impressed by the Chief Minister's talk on the projects like GIFT city and Dholera SIR. Chief Minister also talked about how Gujarat has initiated in incorporating youth power for invoking people's movement to speedup the development. Some of the students also showed interest in giving their contribution for the human resource development in the State.

Mr. Modi said that India will carve a strong position in the world with the three pillars of IT (Information Technology), BT (Bio Technology) and ET (Environment Technology).

Principal Secretary to Education Dr. Hasmukh Adhiya, Higher Education Commissioner Mrs. Jyanti Ravi, Secretary to Chief Minister A.K.Sharma, Managing Director of iNDEXT-b Mukeshkumar and senior government officials were present on the occasion.
Share Your View via Facebook
top trend
what next
IBTL Gallery