Bharatpur opens a Pandora's Box, Are Cong-ruled states equally prone to communal violence as the rest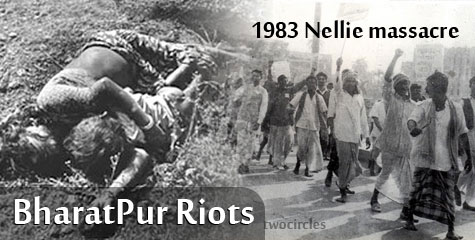 Are Cong-ruled states equally prone to communal violence as the rest? : Asked a chief editor of a news channel which claims "whatever it takes". The question he posed, is indeed to confuse, the Indians, who have not got any memory about riots happened in the past. The only one riot which everybody knows is about post Godhra Riot , which was celebrated by Rajdeep Sardesai when he was in ndtv. The present journalists, of ndtv even boasts that the coverage of ndtv put an end to the riots, as if government would not have done anything if they had not covered the riots. But mysteriously, but obviously, when the Bharatpur riots were happening in the congress ruled Rajasthan, the riot stopper media were silent. Now rajdeep's channel woke up late, debated it, but the channel which he worked in 2002, ndtv, chose to remain silent without any major discussion on it.
Rajdeep Sardesai said: "was shown shocking pics of bharatpur riots. 9 people killed, all belonging to one community, all killed in police firing ; when a mob fires 12 rounds and the police fires 219, then questions must be asked of the police.". But the reports from other print media suggest more than 15 killed and some bodies were burnt by police. The background and reasons of the Bharatpur riots can be read here . The question naturally arises, in such a secular state (because it is ruled now by congress, which claims to follow hard core secularism), if the police were provoked to fire 219 bullets, then indeed the provocation should also be investigated. Nonetheless, the issue is Rajdeep Sardesai Question, which suddenly came up when he realised, the riots in the congress ruled states cannot be covered up.
Has media covered up any riots in non BJP ruled state ? We all know before 2002, the media were not popular and private media were non existing, but what about recent riots that happened in Deganga Riots of 2010. Has any media (ndtv, timesnow,Cnnibn) reported it ? Was it too silly for news when Hindus becomes victims of Islamic hate propaganda? But unlike the blackout on deganga riots, at least CNNIBN chose to have a discussion on Bharatpur riots, only because some Muslims have dead, and it will increase the TRP as well. We saw some hilarious comments by young Congress MP, who said Bharatpur riots are not communal, but only a clash between two communities! But, the Bharatpur riots have opened a Pandora's Box.
Was not the congress government both at Centre and Delhi directly responsible for the brutal massacre of Sikhs in 1984? Does the stain of blood disappear just by making another Sikh PM apologise for it? The communal politics of congress do not start and end at 1984.Congress Govt was in Gujarat when communal riots worse than 2002 happened in 1969, the Sikh riots was a Genocide of Sikhs, One of the convicts in Godhra train burning incident case, which triggered the entire riots in Gujarat , was a congress member, partition saw thousands of Hindus and Muslims rioting, if we go and examine each riots, we can see the congress HAND in it. So Mr.Sardesai, must not think, he can fool the entire country with dumb questions.
But, above all, there was a real "forgotten massacre" which happened under Indira Gandhi's rule, which was now re introduced to public memory by another journalist of The Pioneer. , Mr.Kanchan Gupta. He tweeted: "Nellie 1983: Shouldn't we demand Sonia Gandhi must ask Govt to publish Tribhubhan Tiwary Commission report? ". Wikipedia informs us about the forgotten massacre "The Nellie massacre took place in Assam during a six-hour period in the morning of 18 February 1983. The massacre claimed the lives of 2,191[2] people (unofficial figures run at more than 5,000)". Also it adds:"
A Commission of Inquiry was instituted under Tribhubhan Prasad Tiwary, the report of which has not been made public. There is enough evidence to suggest that successive local governments, belonging to both the Congress and the AGP, have suppressed information about the massacre". The detailed reports can be read in an Islamic website, here. HT has a report about the incident which quotes a survivor Aamir, who buried his kin after putting together their dismembered bodies, recalled: "We ran when they started firing. We returned to see almost all the people in our village lying in a pool of blood. Ya Allah."
This massacre was long forgotten, there are many riots which took place under congress rule, it forces me to suggest that congress, who was the single largest party of India for many decades, ensured it remained so by playing the same communal politics which they now accuse BJP is playing. Not to mention the atrocities during the emergency by Indira Gandhi, congress has killed or witnessed killing almost all sections of Indian population. May be that is why it claims they are secular. The "hands" of congress party has stains of Hindu, Sikh, Muslim blood.
Now let us again come back to recent riots taking place under the secular rule of congress, which media claims as a "forgotten riot". It was indeed a coincidence, when Narendra Modi who was accused by the congress head, as "merchant of death", was on a fast for his "SadbhavanMission", the police under Ashok Gehlot in the neighboring state were busy burning the dead bodies of those who were killed in their firing. Will Sonia Gandhi whose husband and mother in law were responsible for many massacres, call Ashok Gehlot too, a "maut ka saudagar"? Let us wait and see.
— Nationalizer
Share Your View via Facebook
top trend
what next
IBTL Gallery