Will achieve Gandhi's dream of Ramrajya via Gramrajya - Narendra Modi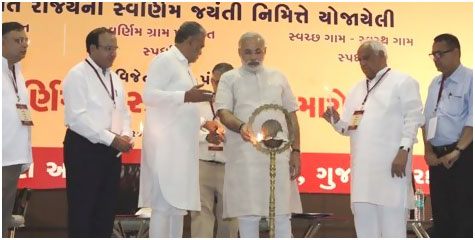 Gandhinagar, Wednesday: Gujarat Chief Minister Narendra Modi today made a slew of announcements to make the Panchayati Raj a model of Good Governance and involve people's participation for village uplift in Gujarat at a function mark here to distribute 6,598 swarnim prizes to the gram panchayats in various competitions held under three major categories to mark the golden jubilee of the state.
The event go down in the history of Gujarat as unique as it was attended by heads of each and every district and taluka of the state as well as sarpanches of every village panchayat, besides representatives of all the 18,000 villages.
Gujarat, considered to be a pioneer in Panchayati Raj, will celebrate the golden jubilee of the relevant Act (enacted on February 24, 1962) from February 24. 2012 to April 1, 1963.
Several deliberations will be held to make the Panchayati Raj stronger from the taluka-level to state-level during the year.
Enthused by the huge participation in the just concluded 'best gram panchayats' competition in the year of the state's golden jubilee, it has been decided to continue the competition for prizes to be awarded every third year after evaluating the progress every six months.
The number of incentive prizes for 'samras gam' will be increased.
The prize amount for 'samras gam' with less than 5,000 populations be Rs.3-lakh, and that for 'mahila samras gam' will be Rs.5-lakh.
The villages winning the 'samras gam' prize second time will get 25 per cent additional grant with CC Road.
The village becoming the 'samras gam' prize for the third time will get another 25 per grant (in addition to the normal 100 per cent and 25 per cent grant received earlier).
The 'samras gam' having school up to Seventh Standard will get priority to upgrade the school up to Eighth Standard.

Making the announcements at the historic event at Maharma Mandir premises overlooking the central vista in the state capital, the Chief Minister said that it is for the time that 20,000 villagers from across the state got an opportunity meet one another at one venue.
He recalled how this Mahatma Mandir was built by the contribution of villages from across the state offering 'jalabhishek' bringing soil and water from their respective places. He said that Mahatma Gandhi's dream of 'Gram Swarajya' happening soon, notwithstanding the fact it took more than 60 years to make even an attempt.
Mr. Modi said that Gujarat has already made long strides in village uplift, with 80 per cent of villages getting water on taps, as average farmer's annual income rose from Rs.14,000 to Rs.59,000.
The Chief Minister said that when he took reins of the state in October 2001, he had introduced 'samras gam' scheme for unanimous election, getting incentive of Rs. 1-lakh each. About 40 per cent sarapanches are female. It invited criticism also.
Various competitions such as 'Best Village Panchayat Competition', 'Swarnim Gram Puraskar Competition' and ' Clean Village – Healthy Village' were held earlier on account of Golden Jubilee year of the State. Prizes were given to the winner village panchayats on taluka, district and state levels.
Gandhiji used to say that this country is made up of villages. Unfortunately this nation fell short in actualizing Gandhiji's notion of 'Gramrajya to Ramrajya'. Now, it is my responsibility to fill this gap of 60 years of independence and to take the villages on new height, said Chief Minister.
"Opposition laughed when we came up with Jyotigram Yojna. But Gujarat is the only state which provided electricity to all its villages through this scheme. State government also took up a campaign for girl child education which led to 100% school enrolment. Sarpanches will have to make sure that these children do not leave their study in the middle, " he said.
Talking about the cleanliness initiatives Chief Minister said that over four lakh toilets have been built in villages in the leadership of Sarpanchs. As many as 4000 villages have become ' Nirmal Village' compare to just four villages a decade back. If a sarpanch desires and take leadership, the village can demonstrate a turnaround.
Mentioning the health initiatives he said that launching of 108 emergency ambulances have saved lives of many pregnant women at the time of labour pain.
The meeting earlier paid condolence to the late former Speaker of Gujarat State Assembly Mangaldas Patel
Others who spoke on the occasion included Panchayat Minister Narottam Patel. Those present included Messrs Purshottam Rupala, Ministers, BJP State President R.C. Faldu and senior officers.
November 16, 2011, narendramodi.in
Share Your View via Facebook
top trend
what next
IBTL Gallery