Vivek's being on Forbes' philanthropists list an example for all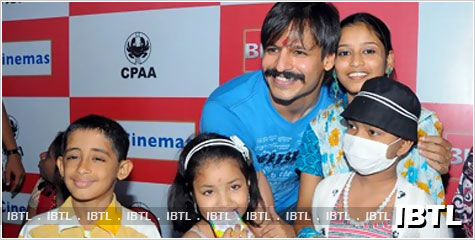 2011 turned out to be a year of turmoil and chaos for India - politically, economically, and in other ways. But there were some bright stars too. Of course, reclaiming the ICC Cricket World Cup trophy was what comes out at the forefront of our minds, but then, there were others too.

One of those less publicized but good things to happen, was the presence of 4 Indians on Forbes Asia's 'Heroes of Philanthropy' list. These were Indian Business tycoon Azim Premji of Wipro, Shiv Nadar of HCL technologies, Bollywood actor Vivek Oberoi, and GMR Group founder Grandhi Mallikarjuna Rao.

Shiv Nadar and Azim Premji (अजीम प्रेमजी भारत में खोलेंगे नि:शुल्क शिक्षा वाले १३०० विद्यालय) made into the list for providing poor children access to education, which has been a top priority for other philanthropists from the country as well. Shiv is known to take the brightest children from the poorest villages of rural India and sends them to boarding school. Premji transferred nearly two billion dollars of his wealth to an irrevocable trust that focuses on education and children's health and nutrition. [Premji's link] Rao pledged USD 340 million his 12.5 per cent personal stake in the business and one-eighth of his family's share, through an irrevocable endowment to the GMR Varalakshmi Foundation that works primarily to educate and train poor youths in 20 locations in India and two in Nepal.

While it is not uncommon for business tycoons to come forward for Philanthropic causes, one name that surprised everyone was that of Vivek Oberoi. Normally, silver screen stars are considered a mean breed of people, who are concerned with their stardom and have not much to care for the misery of the underprivileged. Vivek turned out to be a remarkable exception. In a country where politicians indulge in mere lipservice and claim to be young even after 40, Vivek, aged 34, has done enough to be on the list of most notable philanthropes of Asia. Vivek has donated three million dollars to date and helped raise 25 million dollars to support education, health and disaster relief. Read about some of Vivek's philanthropic ventures here.

1. Vivek Oberoi bats for Hindu pilgrims, criticising government, Manav ...
2. Vivek Oberoi is a key sponsor of the school and its 1,750 underprivileged ...

The list, issued for the 4th successive year, included a total of 48 names from Asia and it aimed at call attention to a mix of notable people and causes throughout the region, and to encourage more giving.
Share Your View via Facebook
top trend
what next
IBTL Gallery