Facebook tells Rahul bitter truth to his face : a Special Report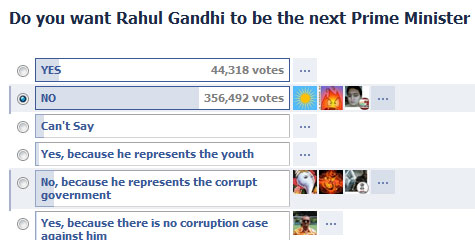 This is one opinion poll that should worry the Congress. There is intense opposition to Rahul Gandhi becoming Prime Minister within his target constituency, the English-speaking computer-savvy youth. The idea has been decisively rejected in a vote on Facebook.
One of the most popular polls on Facebook, being conducted by "MTV India" over the last one week, asks the question: "Do you want Rahul Gandhi to be the next Prime Minister of India?"
Till the time of going to print, 46,285 people (cumulative figure) were saying "yes" to Rahul Gandhi as Prime Minister, while those saying "no" number a mammoth 365,940 (cumulative figure). 13,802 voters cannot make up their mind about the Gandhi scion.
This means that 8.5.89% voted against Rahul Gandhi, while only 10.23% were in favour. An inconsequential 3.23% could not make up their mind.
While 319,758 voters say a simple "no" to the question, 30,538 voters say no "because he represents a corrupt government"; 11,345 voters say no "because he does not have enough experience"; 4,299 voters have problems with him "because he is half Indian".
38,756 voters say a simple "yes" to Rahul Gandhi; 5,359 voters say yes to him "because he represents the youth"; 1,431 say yes to him "because there are no corruption cases against him". And then there are 739 voters who say yes to him "because he looks good and talks well".
The opinions expressed by Facebook users are quite categorical. The grammar and spellings used by the voters have not been altered.
Anil Saxena, who voted "no", says, "Rahul has only one quality that he is the son of Rajeev Gandhi and this quality is not enough for becoming the Prime Minister of India".
Pankaj Tiwari, asks, "why is he in race at all???? He has no identity of his own!! It's shame to even discuss this. Full stop."
Pallav Chaki wrote, "Just having meals in a village with poor people doesnot make one trues leader ... such a person can only fool others emotionally nothing much ... yes we Indians are great at heart and very sentimental which may give this trick an upper edge!!! But such a leader can never be a real leader and can only bring more tragedy to it's country men or be its followers!!"
Pri Nce says, "never never never never".
Ramprasad Sreenivasan questions Rahul's ability to be Prime Minister: "What are his qualifications? What are his qualities? Jst bcos he is a son of ExPM, we are talking abt him. Has he ever demonstrated INDIANNESS? Has he reached out to people when required? Has he talked any sense in any public forums? Why are we even discussin him, am not sure."
Deepika Thakur, who answered "no", threatens to stop voting if Rahul Gandhi becomes PM: "Waise toh ye kabhi nahi hoga....agar ye ho gaya toh main vote karna hi band kar dungi."
Aju Salim, one of those rare voters who answered "yes" among the 11,638 who posted their comments, says, "Ya .. he is hope of the youth.....better than prakash carrot, karunanidhi, advani, modi and mayawati...."
When questioned about the poll, Dr Tushar Amarsinh Chaudhary, Union Minister of State for Road Transport and Highways, said, "Facebook is not India. We have a population of 1.2 billion and not everybody follows social networking websites like Facebook. Rahul Gandhi himself is focusing on strengthening the party and has never gone to the media saying that he wants to be the Prime Minister of India."
Sambit Swaraj, spokesperson of the Delhi unit of the BJP said, "The people of India have finally awakened and understood that Rahul Gandhi cannot be their future leader. The Anna Hazare anti-corruption movement united the people against a corrupt government. Rahul Gandhi and the Congress have lost yet another battle and do not deserve to rule this country in future."
(With in puts from Avneep Dhingra)
Share Your View via Facebook
top trend
what next
IBTL Gallery