Ready to be President if all parties agree: Murthy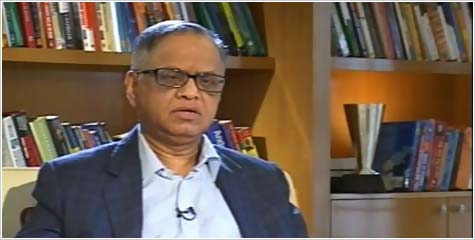 In an Interview with News channel IBN Lokmat, Infosys founder NR Narayana Murthy has said that it would be a great honour for him to be the next president of the country. However, he said that it might be premature to comment further on the issue.
When asked if he would like to be elected as the President of India unopposed, Narayana Murthy said that it is not for him to comment on these issues. On being questioned further if all the parties support him as the younger generation of the country needs inspiring leadership like Dr Kalam and it sees that leadership in him, so if all the political parties suggest his name, if he would be ready to accept that offer, Mr. Murthy replied in affirmation. He said that it will be a big honour to add value to the country and he'll be very happy. But he clarified that it is in the realm of speculation and is perhaps too early right now as it still has another nine months to go.
Narayana Murthy added that he's ready to add value to country in any capacity. He said that Public Health Foundation of India is a very important public institution, that trains public health workers, public health professionals. National Payment Corporation of India aims to be like the Mastercard or Visa. Therefore, he will be very happy, whatever value he can add.
Share Your View via Facebook
top trend
what next
IBTL Gallery