Kar-Nataka : The Bharatiya Janata Party's Karnataka story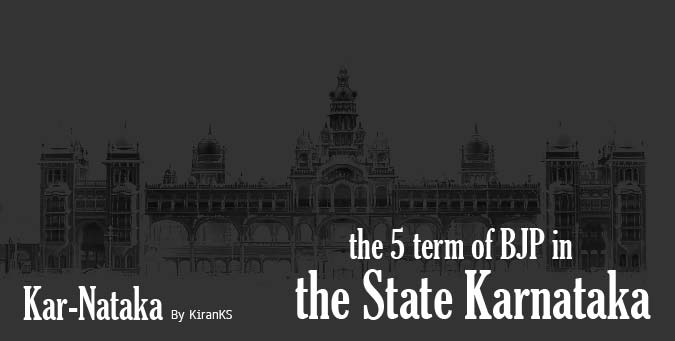 BJP has been in Karnataka for more than 4 decades. And it had seen leadership of eminent persons like Bangarappa, BSY, Ananth Kumar and others. Over the years it has seen several changes in the way party is run. Initially leaders like former Prime Minister Atal Bihari Vajpayee and Lal Krishna Advani had closely supervised the construction of cadre in Karnataka. A few decades ago LK Advani use to regularly visit the state for the direct and lead the party men.
Right from BJPs infancy stage in Karnataka BS Yedyurappa was a key person in strengthening the party. Being demography with majority of the population as Hindu was favourable for BJP. Even RSS has had very strong hold in Karnataka. Time and again RSS backed BJP in the state.
Once in past BJP had faced a minuscule crisis when Mr. Bangarappa left the party and joined INC and his political career had seen a great fall after that. He lost against BSY in Shikaripura assembly constituency in 2008 elections, also later he lost against BSY's son BY Raghavendra in the 2009 Loksabha elections.
Though BJP always had a considerable number of MLAs in the assembly, it emerged as major party in 2004 with 79 MLAs. The Karnataka Congress and JD(S) formed a coalition government to keep BJP away from power. But in 2006 there was a political high drama after which BJP and JDS formed the government where in HD Kumaraswamy was the chief minister and BSY was the deputy chief minister. It is believed that they had a secret agreement to share the chief minister seat for 20 months each. After 20 months it was then BJPs turn to come to power but JDS relinquished to office. With this BJP was forced to quit its support to the government, after which there was presidential rule in Karnataka during October. But in November again JDS extended an offer to BJP and a coalition government was formed on the 12th of November 2007. But JDS quit its support to the government on 19th of November 2007 over issues relating to division of ministries.
BJP came to power with a whooping majority in the 2008 assembly elections. Under the leadership of BS Yedyurappa and a sympathy wave in the public due to deceit by JDS, BJP emerged as the largest with more than 100 MLAs. It formed the government with help of a few independents. With BSY as CM the BJP performed really well in the state of Karnataka. The state had taken up many welfare projects for people. It worked on development of Kannada language and culture, the 'Viswa Kannada Sammelana' was also organised during the BJP tenure. The BSY led government was also successful in attracting about 5 lakh crore investments in its 2010 Global Investors meet.
But after Lok Ayukta report alleged that BSY had used his position to favour his sons in land allocation in Bangalore and also his connection with illegal mining in Bellary and 2 other districts of Karnataka and following pressure from high command BSY resigned in July 2011.
Later D V Sadananda Gowda became the chief minister of Karnataka. During his tenure he applied the Kahajane-2 to the government which made all its transaction transparent, also it reduced the paper work and the procedural delay between the transactions among treasuries. He also started the prestigious Sakaala program which aims at offering services to citizens at the right time. But in July 2012 he had to leave office paving way for Jagadish Shettar, the reason behind his removal was internal dissension in the party. It is also believed that his mentor BSY who handpicked him as the CM was not happy with his way of working.
Jagadish Shettar is the current CM of Karnataka. He is consociated with the Suvarna Vidana Soudha (the golden Assembly) in Belgaum and Khalasa Bhanduri project.
In the recent Karnataka local body elections the BJP won in 906 wards of the 4600 plus in contested. This is under performance when compared to its rival faction KJP which in its infant state has won in 274 in the 1900 centers.
The party has many senior leaders like CM Jagadish Shettar, Deputy CM K S Easwarappa, Home minister R Ashoka, MP Anantha Kumar and BJP National Vice president D V Sadananda Gowda. But after BSY leaving the party the media has reported internal disputes in the party. Also as it is said too many cooks spoil the food, lack of proper leadership may forbid the party from coming to power again.
The five term of BJP in the state of Karnataka is its first success in South India. But it has seen change of 3 chief ministers and also faced a great loss with its tallest leader BSY parting with it.
By Abhishek Jagini, twitter.com/AbhishekJagini
Kar-Nataka Series ...

# Dear Karnataka BJP Campaigner, read this first...
Share Your View via Facebook
top trend
what next
IBTL Gallery