04 June Ramlila ground was surrounded by criminal and communal elements - Delhi Police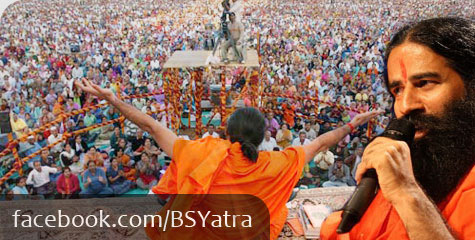 The Supreme Court Monday was told that yoga guru Baba Ramdev suffered the wrath of the central government during his gathering at the Ramlila ground here in June as he raised his voice for the recovery of black money deposited in tax havens abroad.

An apex court bench of Justice B.S. Chauhan and Justice Swatanter Kumar was told that the "whole activity against Baba Ramdev was not on the grounds of yoga but on account of his semi-spiritual activity of fight against black money".

The court was told this during a hearing on the police action past midnight June 4 evicting Ramdev and his followers. The court questioned the police over the action in which Ramdev supporter Raj Bala, 51, a resident of Haryana, was critically injured. She died in Delhi after a 114-day hospitalisation.

Appearing for Ramdev, senior counsel Ram Jethmalani told the court that the yoga guru was a revered personality not only for people but also for prominent ministers in the government but suddenly became a "criminal" after June 4.

As Jusdtice Swatanter Kumar inquired "whether any order was passed to declare it (Ramdev's protest) an unlawful assembly", Jethmalani said that orders under Section 144 of criminal procedure code were passed at 11.30 p.m. which he described as "unlawful".

Describing the June 4-5 police action evicting Ramdev and his followers from Ramlila ground as "criminal trespass", "assault" and "criminal intimidation", Jethmalani said that it was a "disgrace to Indian democracy that any government should act like this".

"Things like this used to happen in Nazi Germany," he said.

He said that the "unpardonable misbehaviour of police" was targeted at the constitutional right of freedom of speech of Ramdev.

The court was told that police had no right to use force and evict the followers of yoga guru who were sleeping.

As Justice Chauhan drew the attention of Jethmalani to a photograph showing a woman follower of Ramdev holding a lathi and attacking police, the senior counsel said that "it is possible that one, two, three hot heads might have thrown bricks at others but these guardians of law (police) have been admittedly shown to be throwing bricks at others."

The senior counsel said that Ramlila ground belonged to the Municipal Corporation of Delhi and it had given permission to Ramdev to hold yoga camp and the organisers had made payment to the civic body for the same. He said that police had no role in it.

Referring to a Delhi Police affidavit, Jethmalani said that police assertion that the whole area around Ramlila ground was "surrounded by criminal and communal elements was a slur on the Muslims" largely living there.

The court would next hear the matter Nov 4.
Source : prokerala | www.prokerala.com/news/articles/a254050.html
Share Your View via Facebook
top trend
what next
IBTL Gallery