Whether Real World or Social Media, Modi is Number 1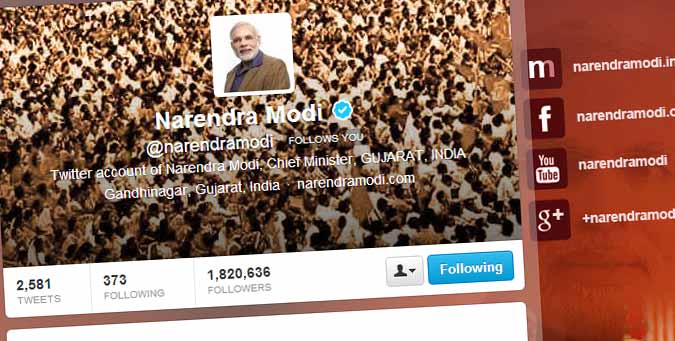 "The past is a foreign country; they do things differently there." The world around us has moved on a decade yet some people refuse let go of the past. Either they haven't been bestowed with the mental wellness or they do it out of compulsion. Such is the compulsion that even if it rains in Timbuktu, they would blame him. The man is none other than social media's undisputed King, Narendra Modi.
No politician in this country has been subjected to the kind of vile, abuse & criticism as Narendra Modi has been through both, by main stream media & alternate media (read as, Social Media). Yet, he has remained unperturbed by this decade long vilification campaign, focussing all his attention on just development of his people & state. A decade later, Modi outshines all his peers. And this is not just limited to the seminars, public gatherings & political rallies, but now also on Social Media. In a short span of 4 years, Narendra Modi today is the most followed politician in India. No wonder, whenever he speaks, Twitter comes to life instantly! Readers, today there shall be no witnesses, because when it comes to Him, numbers speak. As always!
Top 10 politicians1 on Twitter (World):
Top 10 politicians1 on Twitter (India):
Just as in real life, Modi is no longer just an individual on internet. His following & craze now runs into millions. This puts him in the Top 10 league of most followed politicians in the world & the most followed in India. It wouldn't be an overstatement if such a rise in a span of just 4 years can be termed astronomical. In 2009, Modi came on Twitter. By 2010, he crossed the 1 lakh follower count & in November 2011, 4 lakhs. A year later he crossed the million mark! In a span of just 6 months, today he is at the Numero-Uno position with 1.8+ million followers! What makes his rise astonishing is that no politician post independence has been hounded & boycotted by media the way Narendra Modi has been. And still continues to be at their receiving end. But just like he puts his rivals/opponents/critics in a catch-22 situation in which they eventually end up biting his bait, the story isn't very different when it comes to media. If they boycott him, the fence sitters drift towards him thus increasing his numbers. If they show him, his ideas get an additional medium for propagation. Over the past decade, every stone hurled at Modi in the form of abuse & constant vilification campaigns, has boomeranged. He turns every adverse situation into an opportunity. He uses those same very stones to build monuments of even greater magnitudes. Monuments so high, that his opponents begin to dwarf in front of him.
But then this medium is open to all. So why has only Modi succeeded & the rest haven't? The answer lies in his penchant for excellence. To understand this, one must read his tweets. They are: Short, concise, to the point & no murdering the English language or its grammar to fit it within the 140 character limit. But the most important aspect is that, all of this happens in real time! So while he is in the middle of a speech or tour, snippets of it are constantly updated in real time & available on: Twitter, Facebook, Google+, YouTube, & almost a dozen such social networking sites (this excludes the BJP websites). You may not have that many social networking website accounts but Modi is on every one of them. He will outdo & outnumber you. Login to his YouTube page & a short 2 minute video greets users with the vast variety of ways they can interact with the CM. Apart from this, he has an exclusive app at the Google Play & iTunes store where Android, iPhone & iPad users can download his app & stay connected to his speeches, news & events in real time! That is not all; he has a personal tv channel & a very well designed personal website, www.narendramodi.in. On the website, there's an Interact section where visitors can: a) Write to him b) Request an appointment right from their home & c) Invite the CM to an event. All of this at the click of a button! This is what sets Modi away from the league.
Every bit of his work has a stamp which signifies two things: 1) That he works only with professionals and that too with the best of them 2) His eye for detailing & excellence.
Why did Modi move to Social Media?
Over the last decade, like every other politician, Modi too needed media for propagating his work, ideas & a success story called Gujarat. Thanks to media's apathy & bias. While the success story just kept getting wider & stronger; Modi's dependence on media began to shrink. Today, the tables have turned. An exclusive interview of Modi is nothing short of a scoop! Modi has explored & used social media to the fullest & to build his own parallel network which can put the viewership figures of many prime time tv news shows to shame! Take a sample of the follower count he enjoys on just 3 of these websites: Twitter (1,819,636), Facebook (2,154,581) & Google+ (624,400). The total is a staggering 4,598,261! [Adding YouTube (46,278), it comes to 4,644,539]. With such huge, self built machinery at disposal running into millions, it not only spreads every word he says in real time but puts enormous pressure on main stream media. Such a huge fan following brings with it a committed viewership which translates into TRP's for media channels. Therefore ignoring him is no longer an option as it hurts their business interests too. Such is the craze that now when Modi rises to speak; he begins to trend on Twitter! No other politician in India can boast of any such thing. Eventually, Modi has not changed the rules but the whole game altogether, vis-a-vis media.
Putting numbers in perspective; the worth of having around 5 million followers:
To put this number in perspective, let us compare this figure of 5 million against some other mediums. The comparison need not have a 1-to-1 correlation, but shall give an idea of the magnitude & worth of this important figure.
A sample of the pace at which Narendra Modi's follower count is increasing:
As you can see above, from June 20 till date, while Tharoor has managed to add just 20,000 odd followers, Modi went from 1.73 million to 1.82 million! Since the numbers are huge & competition stiff, an article shall remain incomplete if reactions from his closest competitor aren't mentioned. On June 28, Tharoor tweeted a picture which read "Vote for Shashi Tharoor. After all he made Twitter famous in India". Tharoor has till date enjoyed the number 1 position, but when apprised that it is now only a matter of days when Modi shall take the top slot, he reacted by saying "not all followers are fans". Here's another irate tweet. But the most interesting tweet is this byte he gave to ANI. A "believing Hindu", Tharoor is known to speak his heart without mincing words. As a result, he has been on the receiving end of controversies originating from Twitter. He has spent more time being outside the government than being a part of it, in both his stints as a junior minister. If news reports are to be believed, Congress party has deployed Tharoor as "Tweeter-In-Chief" to take on Modi. This happening just a day before Narendra Modi ousted Tharoor from the Number 1 position makes one wonder, if this is a reward! If true, then bad timing for the Congress. As usual! Also, it is ironical that it is this same party which sacked Tharoor in the past & didn't approve of his enthusiasm for social media. But all said & done, let truth be told: The most popular politician in India now officially is Narendra Modi. And his popularity is not just limited to India. By getting into the coveted Top 10 worldwide politicians list, he has now gone international.
As the dates for the general elections draw closer, his popularity is hitting newer records & is on the uphill. This is a testimony that India sees in him a man who can fix all the ills prevailing in the country. They see in him the CEO who can cleanse the rot which has spilled all over the system. The 'Aam-Aadmi' is flocking to support & strengthen him. They want this Lion from Gir to now leave no territory unconquered. They want India Modi-fied.
Author : Sumeet | Follow the writer on twitter/sumeetcj
- - - - - - - - - - - - - - - - - - - - - - - - - - - - - - - - - - - - - - - - - - - - - - - - - - - - - - - - -
Disclaimer: The author is a commentator on issues of national interest. These are his personal views and do not necessarily reflect IBTL's opinion.
- - - - - - - - - - - - - - - - - - - - - - - - - - - - - - - - - - - - - - - - - - - - - - - - - - - - - - - - -
Share Your View via Facebook
top trend
what next
IBTL Gallery