Killing of Hindu Leaders in TamilNadu/Kerala: Signs of a Malignant Social Tumor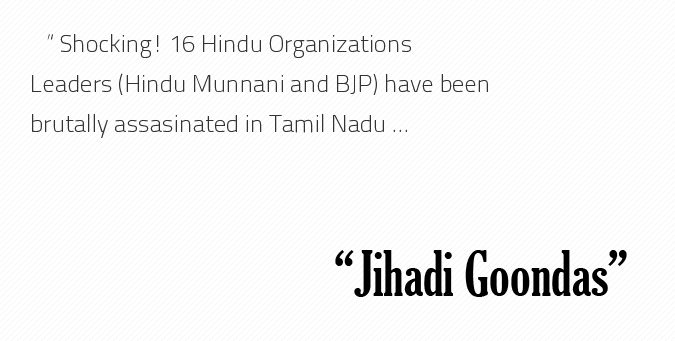 Shocking!! 16 Hindu Organizations Leaders (Hindu Munnani and BJP) have been brutally assasinated in Tamil Nadu over a period of 18 months
I was returning from my annual Pilgrimage to Shabarimala and had just passed Salem station by Kanyakumari-Bangalore Express, when I got a SMS from a friend from Coimbatore with the shocking news that Shri V Ramesh, General Secretary of Tamil Nadu Bharatiya Janata Party has been brutally murdered by "Jihadi Goondas"
In an incident earlier this month (On July 1st) Sri S. Vellaiyappan, Tamil Nadu State Secretary of the Hindu Munnani, was hacked and bludgeoned to death in Vellore. It is not a coincidence that he recently led a protest against take over of Jalakanteswarar Temple by the Hindu Religious & Charitable Endowments Department.
There are 14 other incidents during the past 18 months and many more across the state border in neighbouring Kerala. If someone thinks it is my attempt to communalize so be it. But let it be known that this based on confirmed news even from the Official sources from Tamil Nadu. With signs so clearly pointing towards such forces, I have no qualms in mentioning that rogue elements in the Muslim community have systematically targeted these leaders with active connivance of local authorities in carrying out their sinister acts.
(I am not naive or retarded to believe that there are been no complicity of local authorities in these issues nor am I stupid to see these assassinations as isolated incidents of crime)
When Sri Ramesh (Popularly known as Auditor Ramesh) became the 16th person to be martyred in a state (Check below for links of various reports of other leaders Killed systematically) it did raise hackles of many and we cannot help but note with alarm, that there are some organized forces with vested interests, obviously Anti-National ones, working in a well orchestrated and determined manner. Proper impartial investigations in all probability reveal that this could well be part of "Balkanize India" program of European/ American Conversion Factories with active connivance of UPA (Check my tweet link below)
What should raise our suspicions even further is that these leaders of organizations whose presence or influence is negligible in these states (It is apparently not, with benefit of hindsight) which only makes it even more baffling. Check @emanin's tweet below.
Remember, Kashmir issue started off supposedly as isolated incidents till such time the malaise was so deeply set and before long ethnic cleansing happened. The separatists and terrorist had their roots firmly entrenched and is now bleeding the nation. Unflinching desire of "The Family" to hold on to powers by hook or crook, even if the country has to be dismembered ensured that Army was let loose to fight with their hands tied at their back. As some wise man said, Kerala/TN is headed Kashmir way (in the same sequence). We need to build up pressure on the Authorities to tackle this menace in all earnest and bring the culprits to book – most importantly the Masterminds. Unless we uproot the Masterminds (including those of Italian Origins here), whoever it is, a malignant tumour would relapse. We cannot afford this and…
Reports of Assassinations & Attacks:
Senior BJP leader S Pugazhendhi (52) was hacked to death near the Nagapattinam police station while he was on his morning walk – July 11th 2012
Dr V Arvind Reddy (38), the BJP State Medical Wing Secretary and Indian Medical Association (IMA) Vellore Branch President, was murdered in front of the diabetic clinic owned by him – October 23rd 2012
K. Murugan (45), former BJP municipal councillor, was returning home for lunch when the gang hurled pipe bombs and hacked him to death in broad daylight in the Paramakudi main bazaar – March 19th 2013
55-year-old Nambu alias Kuttainambu, secretary of the Hindu Munnani's Rameswaram unit, was found dead with injuries in the head and chest caused by a boulder – July 7th 2013
And Brutal Attacks
M R Gandhi, BJP's state executive member, was out on his morning walk when the four youths who followed him on two motorcycles, waylaid and attacked him with sharp-edged weapons [Link]
Ananda Kumar, a Rashtriya Swayamsevak Sangh (RSS) functionary & brother of Mettupalayam Municipal Chairman Sathish Kumar, a member of the Bharatiya Janata Party (BJP), intercepted and hacked by a gang of five or six persons near Nadur Kumarapuram – Nov 6th 2012
A bottle filled with petrol was thrown at a residential apartment complex in Ukkadam here, housing the residence of Indu Makkal Katchi (IMK) founder-president Arjun Sampath – 13th April 2013
My (@surnell) tweets on this subject
"Watch out! These assassinations are being written off as result of personal disputes. And some CONgi fanboys and fangirls celebrating it too" – Tweet
"Collating data on mysterious (not really) assassinations of Hindu Munnani & BJP leaders in Tamil Nadu. More than 16 killed in 18 months" – Tweet
"Mark my words! These killings are part of "Balkanize India" program of European/American Conversion Factories. With active connivance of UPA" – Tweet
"One of the leaders (16 in total) is hacked to death and all these leaders can come out with is this stupid English-Sanskrit debate" – Tweet
"Ignoring funeral of Party's State General Secretary who has been martyred (yes, no less)!!! It couldn't get worse than this " – Tweet
Tweep (@emanin) rightly wonders:
"Quite surprising to see max brutal killings of BJP / SanghParivar men happen in TN & Kerala where they are politically irrelevant" – Tweet
"The sudden spurt of incidents involving killing of prominent Hindu org leaders in TN must have some context" – Tweet
"It's the religious conversions industry that dictates / set political discourse in these parts of TN & Kerala … That's why no one bothers" – Tweet
Gurudev Sri Sri Ravi Shankar (@SriSriSpeaks) tweeted
"In the last 18 months, 16 Hindu leaders were killed in Tamil Nadu. What a shame! How could our intelligence fail so badly? " – Tweet
"Some of these leaders were doing selfless service. It looks like a sinister plan and should not be taken lightly" – Tweet
Vishwa Samvada Kendra on its website also covered...
Shocking News: V Ramesh, BJP Tamilnadu State Gen Sec MURDERED last night by Jihadi Goondas.
Tamilnadu Police Identifies 3 Muslim Youth in BJP's Ramesh Murder Case; Photos Released
Hindu Munnani State leader Murdered in Vellore of Tamilnadu; RSS condemns the incident
Another ABVP leader murdered in Kerala, this time SACHIN GOPALAN
RSS-ABVP Worker Vishal's murder case: Kerala Police arrested two Popular Front Workers
Friend SG Suryah is also tracking each of these attacks (Check this out)
Sinister Designs Unravelled
With Raids on PFI centres across North Kerala yields lethal weapons and foreign currency, the Kerala Police have now been able to expose the real face of terror of the religious outfit bolstering the apprehension that Islamic fundamentalists are waiting to spring a surprise in the state. (via Sri. Subash in his comments on this piece)
Kerala government informed the state high court that investigators have obtained evidence regarding the connection of radical outfit Popular Front of India, which allegedly launched a brutal attack on a college lecturer in July, with the Hizbul Mujahideen, Lashkar-e Tayiba and Al Qaeda.
The submission in this regard was made by by R Rajashekharan Nair, Deputy Secretary (Home) in a counter affdaivit filed in a PIL by Gireesh Babu seeking a ban on PFI and to handover the investigation on the attack of the lecturer to National Investigation Agency (NIA). (via Sri. Subash in his comments on this piece)
Kerala's Muslims have prospered largely thanks to the Gulf Boom, but over the past four decades the phenomenon has also led to an apparent spurt in extremist tendencies among the minority community, throwing up yet another paradox in a state known for paradoxes. (via Sri. Subash in his comments on this piece)
Kerala could be the next J&K, if we let the Jihadis continue radicalising the Muslims and funding terrorism in the state writes Dr Subramanian Swamy (Attributed) MUST READ THE DETAILS ON THIS LINK!!
Kerala Police confirms our worst fears – the terror face of Popular Front of India stands exposed. This is the time for all nationalists, Muslims included, to come forward and oppose this anti-Indian organization.
Kerala Chief Minister V S Achuthanandan on Saturday said the radical Popular Front of India (PFI), which hit the headlines recently after its activists were accused of chopping off the hand of a college lecturer, was aiming to convert Kerala into a "Muslim country" in the next 20 years. (Shared by a dear Friend, Prashant)
Author : Suresh En | Follow the writer twitter.com/surnell
Share Your View via Facebook
top trend
what next
IBTL Gallery