P Chidambaram Complicit in 2G, Record My Testimony: Subramanian Swamy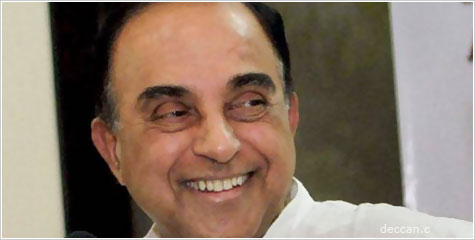 Janata Party chief Subramanian Swamy today pleaded before a Delhi court that it should bring on record purported new facts that former Finance Minister P Chidambaram and former Telecom Minister A Raja had a role in deciding 2G spectrum prices and entry fee.

In a fresh application in the court of Special CBI judge O P Saini, Swami said he wanted to bring "new facts" on court records through his deposition.

"The fact that the above named two ministers together decided that the prices of spectrum and entry fee should be lumped together at the 2001 level and decided against the market price of 2007-08 period for the entry fee, is confirmed by the speech of the Prime Minister in Rajya Sabha on February 24, 2011," said Swamy in his application.

He also sought to record his testimony afresh alleging complicity of Chidambaram, now Union Home Minister, in spectrum pricing. This has come now in public knowledge and this necessitates his re-examination as a complainant, he submitted.

Swamy, who is pursuing a private complaint in the 2G scam, also sought to examine CBI officials concerned "to establish the nexus of accused persons with others, who have intentionally not been made accused by the prosecuting agency."

Swami, in his application filed under Section 311 of CrPC for summoning witnesses, alleged that, "The fact clearly shows that Chidambaram was in collusion and active connivance with the then Minister for Communication and IT, A Raja, to fix the prices at 2001 level jointly and with their unlawful acts both of them thereby caused an unlawful loss to the public exchequer and have taken unlawful gain for themselves."

The Janata Party chief also said he has also filed a similar plea with the Supreme Court which is pending adjudication.

On August 26, Swamy had told the special court that he needed some more time to file an application to make Chidambaram an accused in the case as the matter is pending in the Supreme court.

In an earlier hearing, he had alleged before the court that the charge sheets field by the CBI did not cover the role of Chidambaram, who "jointly took important decisions" on allocation of radio waves.

On September 8, the apex court had directed Swamy to submit all his correspondence with the CBI in connection with his plea to investigate Chidambaram's alleged role in the 2G scam.

Swamy had told the apex court, "A pricing formula for spectrum would not be valid and binding until it had the concurrence of both the DoT and MoF," and, added that Chidambaram was Finance Minister when the spectrum allocation was made.
Share Your View via Facebook
top trend
what next
IBTL Gallery