India salve on Vietnam scars - ASI to help restore temples damaged in US bombing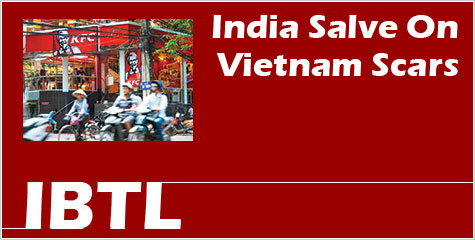 India will help conserve a portion of My Son sanctuary, a world heritage site in Vietnam that has one of the largest collections of Hindu temples and monuments, the oldest of which dates back to the 4th century AD. The Archaeological Survey of India (ASI) will be restoring the damage done by a weeklong US carpet-bombing during the Vietnam War. It's been four decades but My Son's 70-odd monuments still wear their war wounds from the B52 bomber raids of August 1969. The surrounding area is considered dangerous even now because of undetected landmines.
A team of ASI officials has visited the site and is finalising the preliminary report. For several years, teams from Italy and France have been working on the site, mainly built in the Indian architectural style of Shikhar. The restoration is expected to be a part of next week's scheduled bilateral talks with the Vietnamese President in India.
The temples at the sanctuary, set in a valley surrounded by high mountains, were built by the Cham rulers, who established the Champa kingdom towards the end of the 2nd century AD and soon came under the influence of Hinduism. Most of the shrines are Shiva temples and some are dedicated to other deities. The peak construction time was between the 8th and 10th centuries, when some of the most magnificent monuments had come up. Later, the area came under the influence of Mahayana Buddhism too.
The site was rediscovered and introduced to the modern world in 1898 by a French scholar, M.C. Paris. The sanctuary was awarded world heritage status as UNESCO recognised it as an exceptional example of cultural interchange. It is the place where subcontinental Hindu architecture was introduced into Southeast Asia over 1,600 years ago and evolved for over 10 centuries, while intermingling with Buddhist culture, a branch of Hinduism.
Share Your View via Facebook
top trend
what next
IBTL Gallery