Bhushan attack: Two accused to court arrest today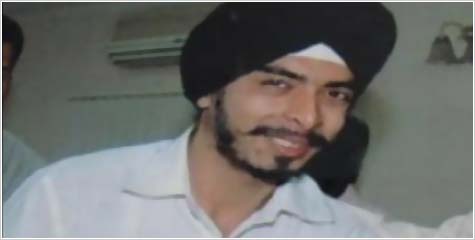 New Delhi: Two of the three men who attacked senior Supreme Court lawyer Prashant Bhushan will be surrendering in a Delhi court shortly.

Sources said that Tejinder Singh Bagga and Vishnu Gupta, who apparently belong to an outfit called the Bhagat Singh Kranti Sena, will court arrest in Patiala House Court at 11.30 am.

It was reported that Bagga was earlier a member of BJP's youth wing. The BJP though has denied this. But now a photograph showing Bagga with senior party leader LK Advani has surfaced.

Bagga claimed that he had also attacked Hurriyat Leader Syed Ali Shah Gilani and activist Arundhati Roy.
Who are the Bhagat Singh Kranti Sena

The third person who attacked Prashant Bhushan Inder Verma has already been arrested. He calls himself the president of a right wing group Sri Ram Sena.
Team Anna member Prashant Bhushan was beaten up by three people inside his chamber in the Supreme Court on Wednesday because of his comments on the removal of the Armed Forces Special Powers Act from the Kashmir Valley.

One of the attackers, identified as Inder Verma, is an activist of the Sri Ram Sena, which has claimed responsibility for the attack. Verma was arrested and will be produced in court on Thursday. The other two were identified as Vishnu Gupta and Tajinder Pal Singh Bagga, both of whom belong to a little known Bhagat Singh Kranti Sena.

Inder Verma claimed that he and his associates had only come to seek Bhushan's explanation on the comments but they were attacked by the lawyer's aides.

Bhagat Singh Kranti Sena also claimed responsibility for the attack and said that the lawyer was beaten up because of his comments on the removal of the Armed Forces Special Powers Act from the Kashmir Valley.

"We are taking responsibility for beating Prashant Bhushan for his statement against national integrity," Tajinder Pal Singh Bagga of Bhagat Singh Kranti Sena said.

The outfit also updated its Facebook page claiming responsibility for the attack.

"We hit Prashant Bhushan hard in his chamber in Supreme Court. If u will try to break my nation, I will break ur heads," the Facebook status update said.
The police were questioning Inder Verma and the other two person to get details of their whereabouts.

The three activists barged into Bhushan's chamber on Wednesday afternoon claiming that they had an appointment with him and brutally assaulted him.

The attackers pulled the lawyer out of the chair, slapped, dragged and repeatedly punched him. Even after Bhushan fell down the attackers kept on hitting him with their legs. Bhushan's shirt was torn and his spectacles fell when he was roughed up.

"Three people came to my chamber and started shouting slogans and attacked me, two of them managed to run away," Prashant Bhushan said.

Bhushan was taken to the Ram Manohar Lohia Hospital and was later discharged.
Share Your View via Facebook
top trend
what next
IBTL Gallery