Rahul's idea rejected by Lok Sabha, Pranab angry, Lokpal bill passed with amendments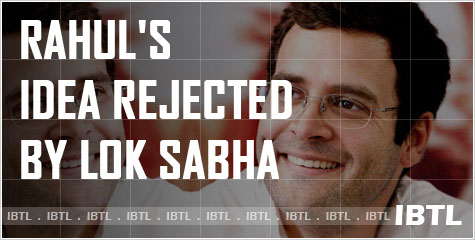 UPA Government faced a major embarrassment as the Lok Sabha rejected the Bill giving Lokpal a constitutional status. This was an idea of Rahul Gandhi and it needed 2/3 majority of those present. But, Government could not earn even simple majority on the issue. Only 250 MPs, much less than even 50% supported Rahul's idea, and the bill failed. The Bill was defeated in the Lok Sabha by a determined Opposition, helped by the absence of parties supporting the government from outside like SP, BSP and RJD.

At the failure of Rahul Gandhi's bill, a frustrated Pranab Mukherjee termed the development as "a sad day for democracy", and told the BJP that "people will teach you a lesson".

Earlier, leader of Opposition, Sushma Swaraj, pointed out a long list of anomalies and irregularities in Government's draft. Read here [Sushma rips Government's bill apart, terms it full of confusions]

It was a repeat of what had happened to Rajiv Gandhi's notion of giving constitutional status to Panchayati Raj, 22 years ago. At that time, after his defeat, Lok Sabha was dissolved and Congress had gone to polls, which it lost.

At the failure on the government to earn even a simple majority, the BJP demanded the resignation of the government on Moral grounds. "I had said during my speech that Prime Minister spoke as if he was making his farewell speech. If any morality is left in them, they should quit," senior party leader Yashwant Sinha said.
Share Your View via Facebook
top trend
what next
IBTL Gallery