Karachi Industrialist's delegation invites Modi to Pakistan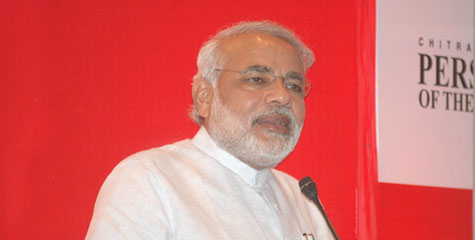 Gujarat CM Narendra Modi, who is being seen as an emerging national leader in India, even by his critics, is literally going places. Recently during his China trip, he exuded authority that reflected his growing stature in South Asia, and now, he has been invited by the Karachi Chamber of Commerce and Industries (KCCI) to visit to Pakistan and share the success of Gujarat model with industrialists of Pakistan. Considering the recent US Congress report that had praised Modi's development and various recognitions conferred by United Nations' organisations to Gujarat's development schemes, Modi's clout might well be growing beyond South Asia too.
While visiting CM Modi at Gandhinagar, a Pakistani business delegation impressed by Gujarat's development called for exploring greater cooperation in trade and industry between Gujarat and Pakistan. A statement by Gujarat govt further mentioned this and also that the delegation invited Modi to visit Pakistan and address the corporate heads of Pakistan's industries and business on the Gujarat model of development.
Gujarat Govt press statement says that the delegation which was on Gujarat visit at the Asia Colour Chemicals Mega Exhibition being held in Ahmedabad and held a detailed discussion as how to develop the relations between the two regions, was impressed by the state government's transparent and progressive policies, which are conducive for industrial growth. Mentioning the long association between Gujarat and Sindh regions of undivided India, they urged Modi to start a direct flight between Ahmedabad and Karachi also.
It remains to be seen if Modi would oblige them by paying a visit to Pakistan. Not just diplomatic but security issues must also be taken into consideration before any such visit because radical anti-Indian elements in Pakistan are known to perceive a strong Modi as a vital threat.
Share Your View via Facebook
top trend
what next
IBTL Gallery