Why a deafening silence by Congress on Kashmiri pandit's plight and agony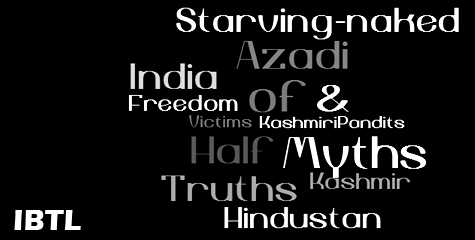 22 years before, on 19th January 1990, an entire segment of Indians was forced to leave their home and hearth in Kashmir valley by barbaric Islamic terrorists and secessionists. The only reason for the forced exile of the Kashmiri Hindus was their love and devotion for India, Tricolour and their Dharma. This is one of the most atrocious and barbaric ethnic cleansing occurred in the world, against Hindus, for the "crime" of being just what they were.

Pandit Tikka Lal Taploo, prominent advocate and senior functionary of the BJP became the very first victim when he was shot dead near Lalchowk in Srinagar on 14th September 1989.

Several Kashmiri Hindus community members continue to languish in temporary settlements across the Jammu city and adjoining areas. Till date the J&K Government has been inefficient in prosecution of any terrorist responsible for the killings of Hindus or destruction of temples across the Kashmir valley.

While the J&K Chief Minister has often spoken on twitter and in media about 'rehabilitation' of Hindus in Kashmir; not much is visible on ground. Hindus forced to stay in one-room camp settlements for all these two decades outside Jammu have been further sent to a little known place called Jagati after creation of a secluded township for them. The community has been forced into another state government backed migration in turn making their return to Kashmir impossible in the coming days.

Since the tenure of the current coalition Government in J&K began, it has been screaming about return of the 'exiled' Hindus on the pretext of a job package which forces them to stay in the valley under unsafe circumstances risking their the security of their family members. Contrary to the claims of the Chief Minister, the Home Ministry while responding to a question towards the end of 2011 informed the Rajya Sabha that there has been no return of Kashmiri Hindus back to Kashmir.

The honour of Tricolour and the Indian citizen in Kashmir is threatened because of the divisive government policies reflected in Article 370 of the Constitution. We are committed to remove article 370 when we BJP comes to power .

We would like to ask Congress, what are its plans to rehabilitate Kashmiri Hindus and why there is a deafening silence by Congress leadership on their plight and agony?

BJP demands the Government of India to come clear on the 'rehabilitation' policy adopted towards Kashmiri Hindus with free flow of Indian constitution and a sense of security. It also demands action against perpetrators of horrific killings of Hindus.

- - - -

Press Statement Issued by Shri Tarun Vijay, MP, BJP National Spokesperson on Kashmiri Hindu exile's 22 years today.
.
Share Your View via Facebook
top trend
what next
IBTL Gallery