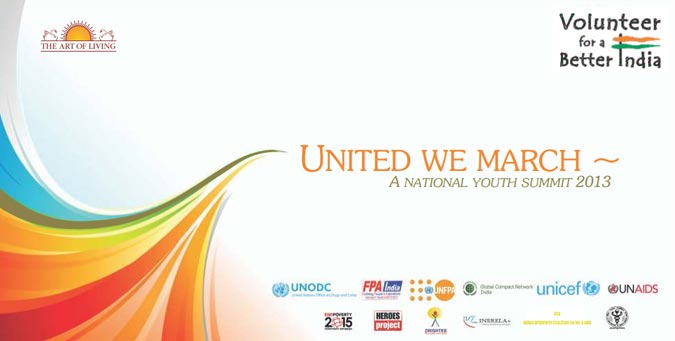 'United We March – A National Youth Summit.' It is being organized on 2nd Feb 2013 by six United Nations agencies such as UNICEF, UNAIDS, UNMC, UNODC, UNFPA, UNGCN and The Art of Living, Heroes Project, Drishtee, INERELA-IICA and AIIMS, with Delhi Technological University as the Hosting Partners. This is the first time in India that so many United Nations agencies and other organisations have come together under the same roof for a joint conference.
The objective of the conference is to build capacities of youth around seven social issues such as Health and Development as HIV and AIDS, Sexual - Reproductive Health and Rights, Declining Child Sex Ratio, Drugs & Alcohol, Corruption, Millennium Development Goals, Safety for Girls and Entrepreneurship. The conference will be for four hours and will purely be academic in nature. Experts from UN agencies and NGOs will conduct the workshops. Certificates of Participation carrying logos of all agencies will be extended to participants.
United We March ~ A National Youth Summit will be held on February 2nd 2013 (Saturday) at Delhi Technological University, New Delhi from 10 am to 2 pm. A half-day summit is envisaged to be attended by over 1000+ youth delegates, encompassing college students between ages 18 to 25 years from elite and peripheral institutions across the country, academicians (deans and principals), corporates and representatives from youth NGOs/societal leaders etc.
The summit will start with a joint plenary session followed by seven parallel Breakaway Workshops. The technical know how will be provided by various expert partner agencies. The aim is to equip the future volunteers with necessary knowledge so that they can impact and bring about a change in society and contribute towards the nation's progress. The Breakaway Workshops will end with a combined valedictory session.
This is going to be one of its kind event and thus we look forward to your support in making this conference a grand success. Kindly go through the brochure for the same.
Join Volunteer for a Better India - Register Now ... www.vfabi.org
Share Your View via Facebook
top trend
what next
IBTL Gallery