My first tryst with the Rashtriya Swayamsevak Sangh...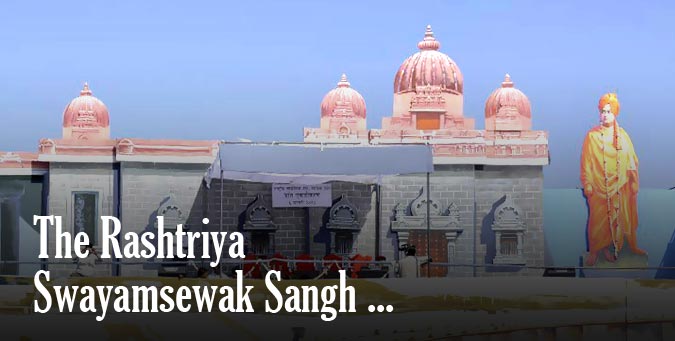 It was a Friday night, 4th January, 2013 and much like business as usual, after returning from office and gleeful at the thought that I had two full days for myself I sat down beside my computer and opened twitter. Media's naughty distortion of RSS's incumbent sarsanghchalak Mohan Madhukar Bhagwat's comment on rapes in India was trending for the day. It's not difficult to verify the authenticity of anything on the internet and it was not long before I realized that the distortion was a time-tested formula by the usual suspects to show RSS as an outdated body of khaki-knickerwallahs who are misogynist, anathema to the society and diametrically opposite to the "left liberal intellectual" class of societies that the media prides to call itself. It is an entirely different matter that media thugs often rely on mutually incorrect sources to back up their stories – and often don't corroborate facts.
I have been following a lot of our journalists on twitter and I am well aware of their modus-operandi. I have been blocked by quite a few despite the fact that I hardly interact using strong words on twitter, in fact anywhere else. Their dread to criticism is finely understood. I hardly get to sit on twitter and the night of Friday Sagarika Ghose was making much noise on Bhagwat's speech. She later had to apologies for the distortions but she did that on twitter and not on her "news channel" which has a history of such distortion under the guise of technical malaise (wonder she and her likes think people are still the gullible fools in the 21st Century). I summed up my anger on Sagarika in a tweet which was shared by a few and after someone tagged her to that she blocked me instantly.
read sagarika ghose's tweets on mohan bhagwat's speech! amazed how cunning the lady is! very ashamed that we have journos like her!

— vivek singh (@vivekbabaji) January 4, 2013
i was blocked by sagarika because of this tweet
Since this blog is not about media's theatrics I would end this part of the story here. What Bhagwat ji said, what media reported and what parallel incidents of much greater national importance were being neglected and for obvious reasons is a different matter unrelated to this blog. This one is purely on how I got to attend my first RSS shivir and what observations I made.
Post the above tweet Mr Rahul Kaushik and I mutually followed each other. We had some discussions on RSS at which he told me to attend the forthcoming RSS shivir at Gayeshpur Goshala Maidan, Kalyani, Nadia district. It was being organized to commemorate the 150th birth anniversary of Swami Vivekananda, who needs no formal introduction in our country. He told Mr Mukul Mishra to help me on the same. It was 5th January and a Saturday morning and after lots of deliberations I finally decided to attend the Vivekananda Yuva Shivir to be held from 11th January to 13th January. I was definitely excited. Despite being critical of media-fed propaganda a negative perception of RSS being extremist, parochial and bigoted was always there in my mind. I wanted to experience it first-hand and I was definitely excited about it. With the benefit of hind-sight I still have reservations about their dress-code but I thought it too insignificant a question to even get it clarified by friends present at the shivir. Maybe it's because of the same reason we have uniforms at school – to avoid strong feelings of class segregation via difference in dressing patterns.
I am of the belief that India will continue to remain secular and democratic so far Hindus stay in majority. It's one of the fistful of Hindu majority countries in the world and as such the ideologies of Hindu nationalism is neither extremist nor invalid. Violence against minorities is definitely unwanted but that is neither preached nor supported at RSS. It's a body of national awakening foremost and Hindu renaissance secondly. It promotes caste unity, national duty (rashtra dharma), selfless service to the needy, a frugal life, personal discipline, community health and above all, and contrary to perceptions, accepts the changing times. RSS definitely has extremist elements but that is because of their individualism. Reductionism of RSS is what media does because it hardly requires merit. People who are a part of RSS are individuals from all parts of society and hardly think in a singular way. When media gets into the business of clubbing groups and assigns them character of their choice and agenda I wonder why they crib when they are called names (of paid media) or are the receiving end.
I am not an authority on RSS. My knowledge on its founder and sarsanghchalaks, its functioning, its history is rather bleak so I would write more on what I experienced first-hand and not beat around negating perceptions created by media.
the main stage
We reached at the camp around 11 AM and it was spread across a huge ground. The entire area was divided into 12 mini-towns named on 12 disciples of Ramakrishna Paramhansa and the central one was named on Ramakrishna himself. Each mini-town could accommodate at least a thousand people. People from Howrah district were assigned to the Swami Brahmananda camp and I along with 7 of my friends whom (except Mukul) I got to know that day itself took the very first tent beside the camp assembly tent.
Life in the camp was classless and casteless. We took frugal meals and led a life of discipline and valued time. Everything was set to routine, right from morning tea to breakfast, from prayer hours to bathing hours, from exercise hours to lunch hours, from assembly hours to dinner hours, from sleep hours to waking up. It was difficult but that's precisely what's needed in nation building – discipline. The entrance to the ground was modeled on Belurmath and the main stage was modeled on the Vivekananda Rock Memorial of Kanyakumari. The ground was dusty and despite it being January the days were pleasant but the nights horribly cold but we shared blankets to beat the cold!
We mostly collected at the Brahmananda camp main assembly tent for hearing lectures and exercises and prayers. The prayers were mostly pledging oneself to national service and the speeches related to the life and teaching of Swami Vivekananda. The whole of us sometimes assembled at the central camp ground for practicing some drills and to hear speeches by dignitaries. On the first day itself we got to hear amongst others Suresh (Bhaiya ji) Joshi. The final day we had Mohan Bhagwat, someone from RKM and Madhavan Nair, the former chief of ISRO who in front of a largely rural collection gave a speech in English which summed up India's history right from Indus Valley Civilization to the now-laughable Aryan Migration theory to dominance of Brahmins in Hinduism, persecution of lower classes to how Hinduism evolves with time because of its universalism and non-exclusionism traits.
Many of the almost 15, 000 who had assembled there were from poor or agrarian or rural backgrounds but we all had to follow the same rules, eat the same food and share the same kind of tents. This is what has kept RSS for so long and the members think will also keep the nation together. No class segregation. We had to sit on the ground – yes, the ground! You have to feel the soil of your country. You have to see your people and their sufferings and hear their problems.
A mini-museum by the name of Vivekananda House was constructed at the entrance of the camp which was also open to the common public. The hall was poorly ventilated and was dusty and I couldn't spend much time inside it. It had displays from rural parts of Bengal as also displays from diverse bodies like ABVP, VHP, VKA, etc. I spent the most time at VHP's gallery which had a lot many pictures of archaeological findings from the site of the Babri Masjid which was pulled down in 1992. The pictures alleged the sure presence of a grand Ram temple which was pulled down by invading Muslims forces to make way for a mosque. Most other galleries had displays of local art, weaving, dhokra, terracotta, temple architecture, local cuisine, places of tourism etc.
Outside the museum were a few shops selling items ranging from books related to the life and teaching of Swami Vivekananda (mostly in Bengali and Hindi) to photographs, key chains, posters to Patanjalii range of items of Baba Ramdev to bovine products. I bought a few Vivekananda key chains, a laminated frame of bharat mata and copies of Sankhnad, Organiser and Swadeshi (which a week hence I am yet to begin).
While most of the speeches focused on Vivekananda a few dealt on the problems of the Hindu society in particular which was led by a speaker from the Hindu Jagran Manch. The key issues raised were the growing minority population which posed a threat to social equilibrium of India as a Hindu society. Issues of land encroachment, media's negative portrayal of Hinduism, etc. Even though a few jokes were cracked on the population explosion amongst Muslims not one word was uttered anywhere asking people to wage a war against them. People were told to stay united and preserve the heritage, unity and strength of the country. There was absolutely no ill-feeling against any community – in fact I don't remember the word "Muslim" coming up even once at the central ground where the main RSS speakers spoke. It was always figments of Vivekananda's life, his struggle, his compassion towards people, his travel to Chicago and his address, India's current situation, lawlessness and all that. They almost always talked of India and Hinduism and that's absolutely fine, in fact necessary. People are free to interpret, that's their problem. I have heard many faiths call for removing the unbelievers but people who actually take upon themselves to implement that are then called fringe elements. RSS on the contrary doesn't even talk of hatred. It talks of love and unity so people who indulge in violence are guided by their own instincts and not that of RSS.
I intend to read more about RSS and how this huge body works. My tough schedule hardly gives me enough time but I would continue the fight against stereotypes and if anytime I feel RSS needs strong words from me I will do that too and am sure before me most of the people who are actively associated with RSS will do that because we all want it to survive, for the nation's sake but from what I have personally experienced I am of the belief that it had a positive influence on my life. I definitely need to read more.
an RSS choir
Some of the other key things which I would like to highlight are:
1) A big thanks to Mr Rahul Kaushik and Mr Mukul Mishra. If not for them I would have never been able to add this chapter in my life's book
2) I was very glad that they don't waste food at RSS camps. They always cook a little less than what is required so that nothing goes waste. I noticed the discipline in queuing up for food and how patiently people waited if the supplies went short. The waste disposal was planned. Security was planned. Sanitation was planned. Everything was perfectly planned and arranged. People who had congregated were not the fault-finder types and that definitely helped.
3) RSS works on a principle where every work is done in rotation so one fine day you as an ITwallah might find yourself serving food to thousands and the next day standing guard outside a tent. RSS doesn't care what position you hold in your personal lives. You are after all a human being and so are thousands others who had assembled there. There was an absolute lack of celebrity cult at the camp and I absolutely loved it.
4) The camps cultivate a deep sense of personal bonding and social camaraderie otherwise so missing in daily walks of life. It gives you reasons enough for unity on the basis of a singular identity of being an Indian. More than Hinduism they stressed on Indianness. The camps don't preach you icon worshiping following rituals and all that. They just tell you to think about humanity and nation – first and foremost. Hinduism is a different thing. RSS is about nation and not religion. Hinduism itself is more about way of life than icon worshiping though minds trapped in colonial and communist traps would love to tell you that.
5) A musical performance by Baba Satyanarayan Mourya and his troupe and which was full of patriotic songs was prove enough that the sangh was changing and was trying to tune itself according to the present times. The call was always for service to motherland and personal discipline. One of the speakers the next morning labeled it rightly as "getting high with a sattvik performance".
There is much more I can write but this is it for the time being. I might modify a few things here and there as and when I get time but the essence would remain the same. Inputs, suggestions and criticism more than welcome.

Author : Vivek SIngh, B.E in Electrical Engineering from BESU, Shibpur. Presently working for an IT multinational and based in Kolkata
Share Your View via Facebook
top trend
what next
IBTL Gallery