Yeddyurappa surrenders, to be in judicial custody till 22 Oct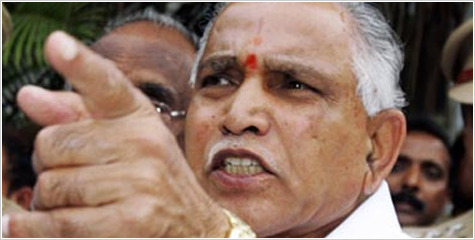 Former Karnataka CM BS Yeddyurappa has surrendered at the Lokayukta Court and will remain in judicial custody till 22 October. He will shortly be taken to the Agrahara Jail.
Before his arrest, Yeddyurappa had gone into hiding after he was served an arrest warrant by the Karnataka Lokayukta court in connection with a case of fraudulent land denotification issue. Yeddyurappa was served the warrant after the court rejected his bail plea observing that he might influence the investigations. The court had directed the Lokayukta Police to produce Yeddyurappa in court on Tuesday but he had excused himself citing backache.
As per a statement issued by the Karnataka BJP, Yeddyurappa would move higher court against the Lokayukta court warrant. Reacting to the development, Congress spokesperson Abhishek Manu Singhvi said that the case highlights BJP's double standards against corruption. Although, he did not comment on why Sheela Dikshit still continues to be Delhi's CM while BJP removed Yeddiyurappa when complaints were received.
Share Your View via Facebook
top trend
what next
IBTL Gallery