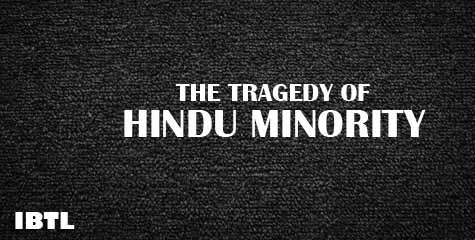 Hindus, who have always believed in sense of 'Vasudhaiva Kutumbakam' & Sarvapantha Samabhaav' are being subjected to worst conditions wherever they are in minority. Around 20 crore hindus are living outside India. Among them, worst are those who are living in countries of South Asia. Atrocities against hindus have increased manifold in South-Asian countries – Bangladesh, Bhutan, Pakistan, Srilanka along with Fiji, Malaysia and Trinidad-Tobago. These crimes against Hindus include Forced Conversion, Sexual Exploitation, Attacks on Religious places, Social Misbehaviour and unlawful seizure of property among others. In some countries, there have also been complaints of political discrimination.

हिंदी में पढ़ें: अल्पसंख्यक हिंदुओं की त्रासदी

The Hindu American Foundation in its 8th report has revealed all these worrying facts. This report is for the year 2011 and has been published some days back. Report says that there were around 25% hindus in Pakistan in year 1947. Now, this number has drastically reduced to just 1.6%. Non-Muslims are being ill-treated in Pakistan. From 24th March 2005, Pakistan has made identification of religion mandatory in passports, Islamic thought is being taught in all Pakistani schools. Non-Muslims, especially Hindus are badly discriminated. This behavior is more prominent in Tribal areas. There is extreme pressure on government there for enforcement of Shariah in these areas. Rapes & abduction of Hindu girls & women are very common. They are forcefully kept in Islamic madrasas and are compelled to accept Islam. Poor Hindus are bound to live like bon ded labourers.

In the same way, atrocities on Hindus have increased manifold. Bangladesh has implemented Vested Properties Return (Amendment) bill 2011, according to which Hindus can't claim their properties which has been unlawfully seized by Muslims. After passage of this bill, a sharp increase has been witnessed in such seizures of hindu properties. It is a worrying fact that such activities have support of establishment. Also, Human Rights Activists & Journalists who show courage to defy this are subjected to tortures & exploitation Also, hindus are targeted by Islamic fundamentalists. Rapes, exploitation, forced conversion, physical assaults & destruction of Temples is very common. Analysts say that if such trend will continue for next 25 years, there will be no Hindus in Bangladesh.

Hindus are facing worst conditions even in Bhutan, which is generally perceived to be a Multi-religious, multi-lingual & multi-cultural country. Around 1 lakh hindus & Niyangmapa Buddhists were expelled from southern & eastern areas of Bhutan. Hindu population is around 34% in Christian dominated Fiji. Local Christians see hindus with eyes of contempt. Several temples were attacked there in the year 2008 and such attacks continued till 2009. The Methodist Church of Fiji has continously demanded for declaring Fiji a Christian country but the Interim govt under Bamanirama rejected it and called for providing governmetal patronage of Hindus. Malaysia is officially an Islamic nation and hence, hindus are subjected to continous harassment & exploitation. Temples and other religious places are continuously attacked. The government provides land & aid for construction of maszids but hindu institutions don't enjoy benefits of this policy. Hindu activists are exploited and are trapped in false cases and are tried in Shariah courts. Win of Smt. Kamala Prasad Bisesar, who is of Indian origin, in Trinidad-Tobago has created a hope in hindus that their exploitation, going on for last 60 years will finally end. The Indo-Trinidadians are devoid of government jobs & schemes. There are incidents of violence with Hindu institutions & during Hindu festivals.

Hindu American Foundation in its report, has also discussed the sorry state of Hindus in Jammu-Kashmir. Pakistan has illegally occupied 35% Pakistan supported terrorists are active in Kashmir. Majority of the Hindu community have already moved out of Kashmir. More than 3 lakh Kashmiri Pandits are living in their country as refugees. They are compelled to live in inhuman conditions in refugee camps. This is a worrying fact that attacks on Hindus are continuously increasing in South Asia but if leave certain organizations, nobody is ready to raise their issues. The way in which countries like Norway, United States brought resolution in United Nations Human Rights Commission and India was compelled to vote in its favor, the minimum India can do is to raise this issue as strongly as possible in inter-country forums like SAARC & ASIAN.

Share Your View via Facebook
top trend
what next
IBTL Gallery