Pakistan Church Attack - Can Yoga and Meditation rewind the cycle of Violence in Pakistan?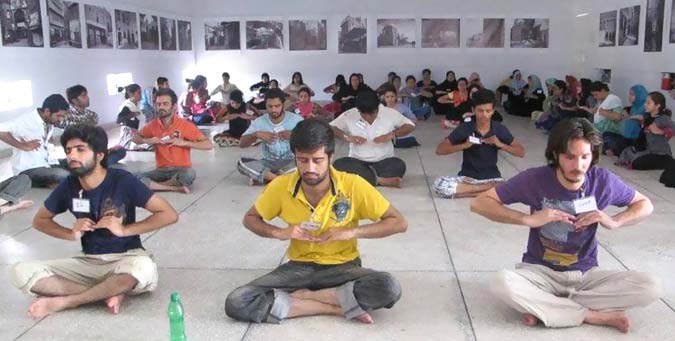 I have been visiting PAKISTAN for many years ,meeting friends, and catching up with my extended family in LAHORE, KARACHI, as well as ISLAMABAD.
This trip was really an eye opener for me on how the situation has deteriorated in the country since I last visited, political instability and corrupt government ,has led to crime happening easily in daytime without the criminals having fear of being caught, let alone being punished.
When I visited last, bomb blasts were happening daily in some city or other, in remote areas as well, but this trip made me sad and wonder when will these people who harm their fellow brothers and sisters ever learn, Since it was Ramadan I was attending iftaris every evening and the common topic was discussing who was robbed, whose house was broken down by thieves, who was held up while driving, whose jewels were snatched, and more horrific who was shot, and were they saved ?
I enquired about my friend Farid who always comes to visit me with his wife and daughter, on why was not he not attending the iftari party, I heard, his father in law was murdered, and thrown in the garden of his house, the murderers had ransacked his home,and they were never found.
Two days later I called Iqbal, to wish him for Ramadan,he also apologized and said his sister was murdered and he was tied up so he could not come,what a horrific reason ,I could only condole him,nothing more she was already dead.I felt he also took the death of his sister as a gory happening yet as one of the things that happen nowadays in PAKISTAN.
I was staying with my friend Amina in Karachi, I have known her since I first visited, usually she adornes herself with elegant jewellry, this time her hands were bare no bangles, not even the famous Pakistani chudis available in the Ramadan chudi bazaar no watch, no earings, not even a chain in her neck. Armed men had come to her home and taken her gold bangles and all the jewellry she had worn,. Since then she does not wear jewelry at home, she keeps it in the bank though she keeps just a little cash at home in case the armed men come again so she can give them the money lest they kill her.
She mentioned, that she was stopped while driving and her beautiful jhumka earings were snatched, since then she does not wear jewelry even when she goes for visiting people ,only very rarely does she even go to her locker in the bank .She said she has been robbed four times, and now she was planning to sell most of her property in Pakistan and invest in UAE or Europe may be even USA, She is planning settle abroad in future like many who are wanting to safeguard their life as well as wealth.She loves PAKISTAN yet feels compelled to leave.
She mentioned of corruption being so rampant, polling agents being harassed, voters being openly hammered and the police and media also being corrupt, so barely any people complain of theft and crimes, they just bear injustice to stay alive.
My other friend Shahin was preparing for the marriage of her son, she mentioned, the week after she purchased a gold and diamond set for her daughter in law, her house was rampaged by 10 men. She said they rung her door bell, when her servant opened the door he was shocked to see two men with machine guns and sturdy gangsters behind. They were well dressed smart looking and knew exactly what they had to do, after they entered they asked about the jewelry, since nothing was in the house they hit her husband and the servants on the head, they were left bleeding, the gangsters took laptops and the mobile phones, reassuring my friend that they were good people and would not touch her. They said they had information about jewelry in the house. Within 30 minutes they had dismantled the furniture, opened and checked all the rooms and cupboards and left. All this in broad daylight, my friend said she did not bother to put a complaint, with the police as it would be a painstaking ordeal and she thought since it was so well planned, the police also could be involved…
Nafeesa and her old and frail mother were driving back from the airport,their car was stopped ,glass window broken , and men with guns asked them to give them all their money and valuables.They gave all their valuables and money away ,without thinking,They said their life is more precious ,than money and they drove back to their home.Fear and helplessness,forced them to accept that things are not the same in PAKISTAN, they live in worry ,and anxiety about the days to come.
TALIBAN ,bomb blasts ,corruption and polical instabitity ,is known ,and now I see more and more daytime burglaries ,murders in homes and fearless looting in public places.
Amongst all this I saw a ray of hope, I interacted with a lot of people some social workers who were working selflessly to uplift the society I also met young dynamic politicians who wanted to bring a positive change in the system ,some media people to wanted to help citizens by promoting human values in talk shows, and I met some people that were practicing meditation, and yoga, Meditation and yoga is not only popular but is used as therapy for stress laden people, parents also want their children to learn to meditate and practice yoga as well and they are on the look out for such workshops.
This was not only my view point as a visitor but also an echo of the voices of people who live in a politically unstable PAKISTAN where violence & looting is a common happening where the citizens are as yet uncertain of what the future holds for them and the country !
IBTL
Share Your View via Facebook
top trend
what next
IBTL Gallery