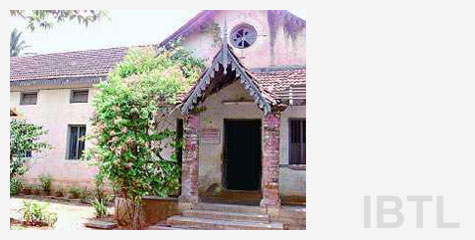 A woman is the backbone of any society. If this backbone is not strong, within no time, the social structure collapses. With this view in mind, in order to strengthen women power of the country, Abalashrama is engaged in the holy work of rehabilitating destitute and orphan women so as to catalyze the process of empowering the social structure.

The foundation for Abalashrama was laid by late Chakravarthy Venkata Varada Iyengar. He was a man of principles and believed in setting practical examples. Therefore he married a child widow, Krishnamma, for which he faced social disgrace. Krishnamma also worked with him for the upliftment of orphans and destitute.

At first, the couple set up an ashram at their residential premises. The couple's generosity drew countless destitute girls and finally, the couple was forced to look around for more space. In 1907, the municipal authorities made available the land where the ashram stands now and the Iyengars, with donations from like-minded people, constructed the building in 1911. Today, Abalashrama is a registered institution run by an elected body and follows the ideal set by its founder i.e. rehabilitation of young girls and women in the age group of 15 to 25 years, who are orphans and destitute.

Abalashrama has an elaborate rehabilitation programme which is implemented through interaction with various organizations. Though individuals can approach it for help on their own, most of them are sent by various institutions engaged in similar tasks. An institution like Balakiyara Bala Mandira, a government organization that provides shelter and education to abandoned girls, prefers to send them to places like Abalashrama as rules bar it from keeping girls over 16. Orphan girls who work in various plantations and estates in Karnataka and who are sent away by their employers once they reach puberty are also taken in. The girls at Abalashrama are either students or apprentices in companies and factories. They are encouraged to be economically independent. Today, there are graduates in biotechnology, law, and commerce. School dropouts and those not keen regarding formal education are given vocational training like tailoring, screen printing, book binding, typeset composing, nursing, and computer operations, depending upon their aptitude. The ashram has a marketing outlet that sells products made by the inmates. Abalashrama strictly enforces the criteria for admitting a new resident. The institution works at making girls' stay happy and fruitful, trying to instill confidence in them and making them see themselves as dignified members of society.

The ashram pays greater attention towards sports, yoga and personality development and the girls are motivated to concentrate on healthy living and high goals. In cases where a girl has suffered trauma, counselling and medical care are arranged. The ashram has on its panel leading gynaecologists, psychiatrists, lawyers, social workers and so on. Once a girl gets a permanent job, she is helped either to get married or move out into a women's hostel. The choice is hers. If she wants to opt for marriage, the ashram goes about the procedures as any parent would do. However, it is the groom that comes here in search of a bride! Thanks to modern, progressive outlook, many youths are eager to set an example by marrying an orphan.

Contact

Abalashrama
125, Dr. D V G Road
Basavanagudi, Bangalore
India, 560 004
e-mail: [email protected]

How to reach:

Basavanagudi is a residential and commercial locality located in South Bangalore and borders Jayanagar.
By air: Bangalore International Airport is 40 km away from the heart of the city, Majestic. Bangalore Airport is well connected to almost all airports in India. International flights to major foreign cities are also operated from Bangalore.
By train: Bangalore Majestic, Bangalore Cantonment (8 km to Majestic) and Yeshwanthpur (10 km away from Majestic) are the three main stations in Bangalore. Bangalore Majestic is connected to all major cities in India.
By bus: KSRTC buses connect all cities in Karnataka to Bangalore. Many super deluxe buses are also available from Bangalore to Hyderabad, Cochin, Trivandrum, Chennai, Mumbai, Goa and Mysore.
... ...
Share Your View via Facebook
top trend
what next
IBTL Gallery