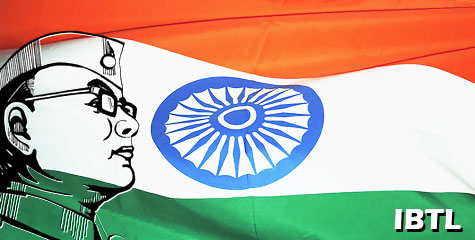 On return from England Subhas met Mahatma Gandhi. On his advice he came into contact with Chitta Ranjan Das. Subhas became his ardent disciple from 1921-25 and Bengal was his field of activities. Subhas organised the congress party being attracted by the Non-cooperation movement.

He also served as a Principal of National College established by Deshbandhu Chitta Ranjan Das at Calcutta. Subhas though took active in the Non-cooperation movement, was not satisfied with Gandhi's ways and supproted Motilal and C.R. Das in organising the Swaraj Party. As a result of his efforts Swaraj Party became very strong and in the elelction of Calcutta cooperation the party got a majority and subhas was appointed the chief executive officer of the cooperation. Subhas edited "Forward", English daily and stabilised the Swaraj Party.

The progressive activities of subhas and the Successful conduct of boycott to Prince of Wales when he visited Calcutta, soon invited the displeasure of the Government. He was deputed to Mandalay, but his countrymen showed him their gratitude and elected him to Bengal Legislative Council in his absence.

In the prison subhas was taken ill and had to be released because the Government was afraid of consequences of his death in custody. After regaining his health subhas again took active part in the political life interest nation. Subhas Chandra Bose held mahatma in high esteem but differed from him in many ideological and strtaegical aspects. Subhas along with Jawaharlal Nehru represented the left and progressive views inside congress. These two leaders became the symbol of change in the congress.

In 1928 subhas attended the Calcutta session of Indian National Congress. Subhas-Jawahar group first tested their strength that they opposed the official resolution moved by Mahatma Gandhi and secured 45% vote. In 1929 Jawaharlal became the President of Indian National Congress with the support of Mahatma Gandhi.

However both Jawahar and Subash pushed through the Karachi resolution of 1931, which besides endorsing the Gandhi-Irwin pact included the principle of fundamental rights and national economic programme. Economic plannings, land reforms, basic education, and basic civil liberties were to be the frame work of future congress programme.

The formation of congress socialist party in 1934 did not attract subhas and Jawahar to its fold. They remained within congress and successfully pushed through progressive views. Subhas had a forced stay in Europe from 1933 to 1936. During his stay in Europe he tried to educate the public opinion against barbarism of British imperialism and enriched his knowledge about west. For his radical views subhas suffered harrasment and frequent arrests by the British government.

Even after his return from Europe in 1936 he was imprisoned under Regulation III of 1818. But he was realesed in March 1937. Subhas's pro-people, progressive and radical attitude, on the other hand, made his popular inside and outside congress. Subhas represented the young and extremist element in the congress and was elected its president in 1938 and again in 1939.

The re election of subhas at the Tripura Session of congress was against the expressed desire of Mahtma Gandhi. Gandhiji considered Sitaramaya's defeat as his own defeat and the followers of Gandhiji did not allow Subahs Chandra Bose to function effectively. Subhas had wide difference with Mahatma over the issue of India's stand on the world affairs, methods of freedom stress on the view, not like by Gandhi, the Indian struggle for independence should start at the sometime as the war broke out in Europe.
Share Your View via Facebook
top trend
what next
IBTL Gallery