Centre can forget valour & sacrifices of Maharana Pratap but the nation will not - Modi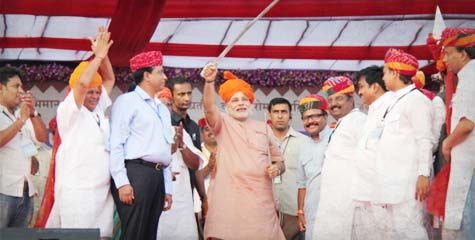 Gujarat Chief Minister Narendra Modi today said that the politicians banking on vote banks at the Centre can forget the valour and sacrifices of freedom fighters but the people of India can not.

Addressing a function to celebrate Maharana Pratap's birth anniversary by over 100 organizations people hailing from Rajasthan and Haryana at Surat, he said that Central Government has no time to remember Maharana Pratap or Chhatrapati Shivaji. The vote bank politics has erased the pages of valour of men or women, young or old, from the history of India. For the last 60 years, Indians are just taught only one lesson that only a single family has sacrificed for the nation. Incidentally, the same family has usurped the country's entire cream.

Modi dared such politicians against dividing the nation. Politicians may differ on the ideologies but cannot change the history and heritage of India. He warned the government at the Centre not to underestimate the people of India.

Recalling association of Gujarat with Rajasthan, he said that Chiitorgarh's founder Mewad Bappa Rawal's mother belonged to Gujarat. Maharana Pratap's horse 'Chetak' belonged to the Gujarat's Kathiawad breed. Maharana Pratap had fought against Mughal sultanate on the issue of cow protection, but unfortunately even the present generation has to fight for cow protection against the current government at the Centre. The time demands that India protects its glorious history.

He said that Gujarat has provided to the nation leadership in both non-violent and armed struggle for freedom. The fight for 'satyagrah' was led by Mahatma Gandhi and Sardar Patel. Shhyamji led the armed struggle.

Modi said it was his privilege to bring the ashes of Shyamaji Krishna Verma from Geneva in 2003, almost 73 years after his death abroad while fighting for freedom struggle. He is happy that Shaymaji's befitting memorial could be built at Mandvi in Kutch.

Prominent among those present there included Gujarat Ministers Natrootam Patel, Nitin Patel, Mangubhai Patel, Ranjit Gilitwala and Mayor Rajendrabhai Desai, among others.
Share Your View via Facebook
top trend
what next
IBTL Gallery